Zachary Clause
January 25, 2018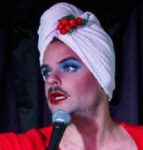 Ambition should always be applauded, even when the show that results from that ambition is a mixed success. Such is the case with the task performer Zachary Clause sets himself with Zachary Clause Does Bette Midler at the Continental Baths, 1971, currently in a return engagement at Pangea. He attempts to recreate every word, every song, every move, every mistake (down to the smallest bit of mic feedback) from the legendary video taped at the Baths on Labor Day weekend 1971 and still lurking in shadowy corners of YouTube and Vimeo. This was the superstar in her early days, and it is clear that when he discovered it, Clause was smitten by its electrifying mix of music and comedy, the singer at her brassy best, and wanted to pay tribute to her and it.
This is not an impression of Midler: Clause's hair is cut short and masculine, and he makes no effort to conceal his moustache. He does sport heavy blue eye shadow and bright red lipstick and wear a clinging black gown, but the masculine muscles and curves it reveals beneath are a far cry from Bette's voluptuousness. After a costume change later in the show, he arrives back on stage in a terrycloth turban, looking like nothing so much as Billy De Wolfe. I think all of this is smart on his part because it centers on his love of Bette rather than the audience's love of the singer. There are hints that he means the show to capture not only her performance but also provide a snapshot of gay life and politics at the time. I just wish, as I do with so many aspects of this show, that he were more successful at it.
The vocals are hit or miss throughout. Occasionally he'll connect with a song—as with "Superstar" (Leon Russell, Bonnie Bramlett), "For Free" (Joni Mitchell), and, especially, Bob Dylan's "I Shall Be Released"—and manage to make it his own rather than just remind us of how great Midler sounded singing the material. Patter, which has always been a highlight of her performances, proves even more problematic. Bette had a permanent twinkle in her eye and a Sophie Tucker lilt of bawdiness to her delivery that was an absolute delight. Since Clause isn't doing an impression, the spoken portions fall flat without that special diva energy. It makes the references within the patter seem even more dated than they might otherwise have been.
Director Reed Whitney and music director Darren Cohen fail to provide the added panache that might have helped the performer pull this off. The show is stuck in a limbo where Midler fans will find little to merit their interest, and newcomers to the star may wonder what it's all about.
But there is that ambition and some promise on display. I would readily go back to see him in a tribute to Zachary Clause.
Zachary Clause Does Bette Midler at the Continental Baths, 1971
Pangea – January 15, 27, February 3
---
About the Author
Gerry Geddes has conceived and directed a number of musical revues—including the Bistro- and MAC Award-winning "Monday in the Dark with George" and "Put On Your Saturday Suit-Words & Music by Jimmy Webb"—and directed many cabaret artists, including André De Shields, Helen Baldassare, Darius de Haas, and drag artist Julia Van Cartier. He directs "The David Drumgold Variety Show," currently in residence at Manhattan Movement & Arts Center, and has produced a number of recordings, including two Bistro-winning CDs. He's taught vocal performance at The New School, NYU, and London's Goldsmith's College and continues to conduct private workshops and master classes. As a writer and critic, he has covered New York's performing arts scene for over 40 years in both local and national publications; his lyrics have been sung by several cabaret and recording artists. Gerry is an artist in residence at Pangea, and a regular contributor to the podcast "Troubadours & Raconteurs." He just completed a memoir of his life in NYC called "Didn't I Ever Tell You This?"