"Bennett & Barton: Swing Out Under the Moon!"
August 21, 2022
If the Bistro Awards gave out an award for Outstanding Musical Archeologist, Elena Bennett would win hands down for her triumphant return to the New York cabaret stage with Fred Barton in Bennett & Barton: Swing Out Under the Moon! which recently debuted at Pangea. In an evening filled with classics (in quality if not always in recognition) from the Great American Songbook, Bennett with her strong, deep, rich voice and exquisite phrasing, and Barton with his pianistic wizardry and masterful arrangements (done with Bennett), forged a partnership for the ages. Again and again the duo showed the audience what a good song and a good performance is; there was not a moment or a note wasted, there was not a funny or witty or romantic line or image untapped.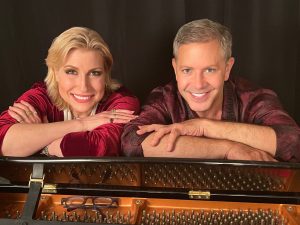 Bennett is an especially fine vocalist and treated the songs with respect, not as museum pieces, but with the freshness and vitality of newly minted material. Internal rhymes, which abounded in the songs, have never had a better friend. She manages to combine a big band singer sound with cabaret sophistication and intimacy and an actress's appreciation of narrative into a performance that—while it harkened back to the finest of American singers— remained uniquely personal and powerful and entertaining. I found myself wishing that the iconic lyricists included in the set were alive to react to and applaud her work. I pictured the likes of Carolyn Leigh, Dorothy Fields, Irving Berlin, Johnny Burke, and others seated in the casual elegance of Pangea murmuring after each of their songs: "That's what I meant when I wrote that…this is how I always wanted it to be sung…you got that just right…thank you for so honoring my work." She was that good. She was supported, elevated, and inspired throughout by Barton's piano prestidigitation—courtesy of the orchestra that resides in his fingers and on a couple of fun duets by his sharply delivered vocals.
As the title might have indicated, the moon in all its magic was the prevailing theme for the evening—its romance, its melancholy, its beauty, its joy. A more traditional secondary theme revealed itself as the show progressed—relationships and their pain, their pleasure, their humor, and their tragedy. Stirring subtly beneath all of it was a reaction to and reflection upon COVID and distancing and lockdowns and how they have affected us. These themes were wisely left to their own devices and not stressed as the twosome delightfully explored the story of each song, interspersed with brief but telling bits of patter that served to bind the repertoire into a cohesive whole.
The show opened with a bubbly exhortation to start living again, "Get Out and Get Under the Moon" (Larry Shay, Charles Tobias, and William Jerome). Wit is a word usually reserved for a vocalist but, in the case of "Never in a Million Years" (Harry Revel, Mack Gordon)—and in a few other instances—it is equally applicable to Barton's performance. "Oh, You Crazy Moon" (Jimmy Van Heusen, Johnny Burke) showed off the pianist's ability to end a song and an arrangement with a flourish like no other accompanist around. It is a small observation, I guess, but it is another indication of the depth and breadth of his talents. "Not I" (Dick Manning, Sammy Gallop) was quintessential American pop, jazzy and swinging, but in no way beholden to jazz. Bennett proved equally adept at bringing a classic ballad back to pulsing, glowing life on "I Can Dream, Can't I?" (Sammy Fain, Irving Kahal) and she pierced my heart with her moving examination of "How About Me?" (Irving Berlin). She muted the natural strength of her voice in service to the delicate, wistful story she was telling.
On "There is No Fool Like an Old Fool" (Joseph Meyer, Joseph A. McCarthy), Professors Bennett and Barton gave a sweet lesson in Cabaret 101 to any young (or not so young) vocalist wishing to learn how standards should be sung. Barton translated the musical language of the '30s and '40s into bright, bouncy, blazing contemporary cabaret with "I Never Know When to Say When" (Leroy Anderson, Jean and Walter Kerr) and his partner in time was with him every step of the way. "On the Sunny Side of the Street" (Jimmy McHugh, Dorothy Fields), perhaps the most recognizable song in the program, was given an added twist by incorporating some of Mae Barnes's lyrics from her signature recording of the song. Asking "What have we learned?," Bennett began to wrap up the show with what was, for me at least, the find of the night, "Save a Kiss" (Anderson, Kerr and Kerr). In a beautifully controlled, haunting performance, lessons were taught, and lessons were learned.
Elena Bennett and Fred Barton ended their show—and gave us the "moral of the evening"—with a jubilant "Life is Just a Bowl of Cherries" (Ray Henderson, Lew Brown). The final encore posed a question that was probably on the minds of most of the highly appreciative audience, "Why Don't We Do This More Often?" (Allie Wrubel, Charles Newman), and through my effusive applause I thought, "Yes, please!"
###
Presented at Pangea on August 16 and 23, 2022.
---
About the Author
Gerry Geddes has conceived and directed a number of musical revues—including the Bistro- and MAC Award-winning "Monday in the Dark with George" and "Put On Your Saturday Suit-Words & Music by Jimmy Webb"—and directed many cabaret artists, including André De Shields, Helen Baldassare, Darius de Haas, and drag artist Julia Van Cartier. He directs "The David Drumgold Variety Show," currently in residence at Manhattan Movement & Arts Center, and has produced a number of recordings, including two Bistro-winning CDs. He's taught vocal performance at The New School, NYU, and London's Goldsmith's College and continues to conduct private workshops and master classes. As a writer and critic, he has covered New York's performing arts scene for over 40 years in both local and national publications; his lyrics have been sung by several cabaret and recording artists. Gerry is an artist in residence at Pangea, and a regular contributor to the podcast "Troubadours & Raconteurs." He just completed a memoir of his life in NYC called "Didn't I Ever Tell You This?"