Watch Jimmy Webb Perform at the 2022 Bistro Awards
August 18, 2022
This past May, three-time Grammy-winning singer-songwriter Jimmy Webb received the Bistro Awards' highest honor, the ASCAP-Bob Harrington Lifetime Achievement Award, for his musical and storytelling accomplishments over a career of five-plus decades.
Here he is at the 37th annual Bistro Awards gala as he accepts his award and performs one of his songs, mostly associated with such singers as Judy Collins, Glen Campbell, Joe Cocker, and Linda Ronstadt.
In his heartfelt acceptance speech, Mr. Webb spoke of his appreciation of his New York cabaret and small club experiences, and notes, "Believe me, Madison Square Garden doesn't even come close."
***
The songwriter, performer, arranger, and producer became a household name in the 1960s with such hit songs as "Up, Up and Away," "By the Time I Get to Phoenix," "Wichita Lineman," "Didn't We," and "MacArthur Park." Webb has impacted the cabaret community not only with his songwriting prowess, but also with his performing career. He has released more than a dozen albums and continues to perform in concert internationally, thrilling and delighting new generations with his musical artistry and storytelling.
---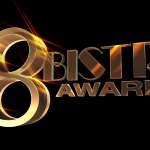 About the Author