Book Review: In "Shy," the Late Mary Rodgers Settles Some Musical Scores
August 9, 2022
Showing up in bookstores and online this week is the posthumously published Shy: The Alarmingly Outspoken Memoirs of Mary Rodgers (Farrar, Straus and Giroux, 2022), written in tandem with the still-very-much-alive Jesse Green, chief theatre critic for The New York Times. Although we're already well into August, there's still time for those who like a dollop of tartness in their summer-reading confections to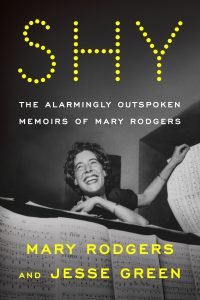 binge on Rodgers's tangy remembrances. And if Golden Age Broadway musicals are among your obsessions, Shy will serve as a time-travel excursion, led by a sardonically funny tour guide (who also had a serious side).
Mary Rodgers (1931-2014), the elder of composer Richard Rodgers's two daughters, was not a happy child. Her mother, Dorothy Belle Feiner Rodgers—presented in the book as imperious and detached—claimed that Mary developed her reputation for being "sharp-tongued" in the cradle. Mary had a fractious relationship with both parents (and she wasn't so thrilled about her kid sister Linda, either). Being purposefully "rotten" seems to have been her way to set herself apart from the other Rodgerses. Her brand of mischief could be disconcerting. More than once in childhood, she came close to burning things down—literally (once by setting her bedroom curtain on fire, another time by helping ignite tissue placed inside a toilet bowl).
She eventually outgrew the pyromaniacal tendencies, but it took her a lifetime to come to terms with her pedigree and to find her own way—or ways. After striving for years to repeat the success of her one big flash as a theatre composer, 1959's Once Upon a Mattress, she found luck with other ventures, all while raising a brood of children, including composer son Adam Guettel. In later years, she became a celebrated children's author, most notably with 1972's much-filmed Freaky Friday. Still later, she served as the chairman of the board at the Juilliard School. Her tendency was to say yes to any project offered her, large or small.
"No one ever said to me: Pick one thing and excel, if you please!" she writes in Shy. "I never got criticized for changing venues."
But she did have to cope with the prospect of eternally living under the shadow of powerful men, starting with "Daddy." Like "Mummy" Dorothy, Richard Rodgers is described as a not-warm parent, and Mary learned early on that there was no point in trying to out-do the Great Man on the musical-theatre front. (She notes that she would destroy her own compositions if someone told her they sounded similar to his.) Throughout the book, Mary regularly and wittily ridicules Richard's more treacly and turgid songs, especially those from The Sound of Music. Generally, she preferred his earlier work with Lorenz Hart, whom she adored and seemed to identify with. A favorite Richard Rodgers song with Oscar Hammerstein II was Oklahoma!'s "Lonely Room," sung in the show by (alleged) fellow firebug Jud Fry.
Despite all of this, though, music was something wonderful that she shared with her father—it gave the two of them a bond of sorts. And, in the glow of his gorgeous melodies, she at times found something resembling paternal love.
Her friendship with another legendary figure, sometime collaborator Stephen Sondheim, was also complicated, not least because she'd fallen deeply in love with him beginning in girlhood. And her feelings were not totally unrequited. Many a Sondheim fan will be interested in reading her account of what amounted to a trial marriage between the two pals. But Mary had once unhappily married a closeted gay man (Jerry Beaty), and she averted doing so a second time. The awkward experiment with Sondheim failed but it didn't do fatal damage to the friendship, which endured but remained somewhat tricky. (She went on to have a happy and lasting if struggle-studded marriage with producer Henry Guettel.)
Another complex relationship was her partnership with Once Upon a Mattress lyricist Marshall Barer, whom she depicts as frequently deranged and consistently slovenly. At one point she describes a shirt Barer wore, "festooned with yesterday's tuna fish sandwich." Barer was forever sampling one new illicit substance or another. (Rodgers is also frank about her own romance with prescription drugs.)
Some of the most readable parts of the book deal with the Mattress experience and Rodgers's subsequent musical-comedy endeavors, including Hot Spot (1963, lyrics by Martin Charnin) and The Mad Show (1966). On the latter effort she teamed again with Barer, who eventually stormed off the project. Sondheim stepped in, giving the show (and the cabaret world) the preposterous and delightful bossa nova spoof "The Boy From." All of this history is presented with gusto.
The book begins in Mary's voice, with footnotes from Green sprinkled in. His informative and sometimes analytical remarks maintain a sharp and witty tone, similar to that of Rodgers's main text. The two collaborators seem to be bantering agreeably in real time. The design takes some getting used to, but it works. Arguably, it might have been better had Green opened with a foreword explaining the nature of the collaboration—or, perhaps, he might have split this information between a foreword and an afterword. But once you get involved in Rodgers's entertaining narrative, the format matters little. You're off on a lovely late-summer fling.
###
---
About the Author
Mark Dundas Wood is an arts/entertainment journalist and dramaturg. He began writing reviews for BistroAwards.com in 2011. More recently he has contributed "Cabaret Setlist" articles about cabaret repertoire. Other reviews and articles have appeared in theaterscene.net and clydefitchreport.com, as well as in American Theatre and Back Stage. As a dramaturg, he has worked with New Professional Theatre and the New York Musical Theatre Festival. He is currently literary manager for Broad Horizons Theatre Company.