Cabaret Setlist: Taking a Chance on Songs (Part II)—Meg Flather Takes on Jud Fry's "Lonely Room" from "Oklahoma!" (Music by Richard Rodgers, Lyrics by Oscar Hammerstein II)
January 17, 2022
Repertoire for the Once and Future American Songbook
Article #20 in this ongoing series.
Happy 2022, all! I wish you many memorable musical moments in the year to come.
In the previous installment of Cabaret Setlist (click here to read), we looked at how singers can expand the scope of their art by defying expectations about what sorts of musical material is "appropriate" for them. I spoke with Byron St. Cyr about his work on Stephen Sondheim's "The Miller's Son" from A Little Night Music.
For today's installment, we turn once more to a song from the American musical theatre: "Lonely Room" from Richard Rodgers and Oscar Hammerstein II's Oklahoma! (1943). The number can currently be heard in Meg Flather's show at Don't Tell Mama: Rodgers & Hammerstein 2021+  (the "+" has been added for performances in the new year), but you can watch Meg performing it right here. (Video edited by Heather Villaescusa; on piano: Tracy Stark.)
Little Smokehouse on the Frontier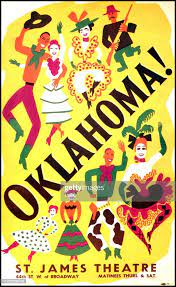 In Oklahoma! this song is performed in the smokehouse of the family farm owned by orphaned settler Laurey Williams and her Aunt Eller in 1906. It's sung by loner Jud Fry, who resides in the smokehouse: a cobweb-filled frontier man cave, complete with girlie pin-ups and a mouse infestation. Jud sings the song after a disconcerting visit from Laurey's suitor, Curly McLain, as well as from the Persian peddler, Ali Hakim. At one point, Curly tries to plant suicidal thoughts in Jud's mind. As he sings "Lonely Room," Jud—who himself harbors feelings for Laurey—pulls himself out of his state of torpor, determining to rally and make a play for her.
The song was introduced on Broadway by Howard Da Silva, but it was not included on the show's original cast album. Nor was it featured in the 1955 film version of the show, in which Rod Steiger played Jud. It has, however, been heard in revivals of the stage show, including Trevor Nunn's 1998 London edition, which later appeared on Broadway. In both London and New York, Shuler Hensley played Jud, a part he'd previously performed in smaller theaters. (Hensley won an Olivier Award for his role in the London show, followed by a Tony Award in New York) and here's why.
In Daniel Fish's provocatively reimagined Oklahoma!, which appeared on Broadway in 2019, Patrick Vaill was Jud, in a less unsavory guise than usual. As Todd S. Purdum wrote in an article in The Atlantic: "This Jud is a much more sympathetic contender for Laurey's affections, and his sex appeal is palpable." Hear for yourself.
Unlike other musical-theatre songs we've explored in Cabaret Setlist, "Lonely Room" hasn't had a large number of covers by pop vocalists. Unlike "People Will Say We're in Love" or even the show's title song, Jud's soliloquy has lyrics that are quite specific to the musical. Understandably, the song hasn't had any sort of a life on the pop charts.
Finding the Political Dimensions of Rodgers & Hammerstein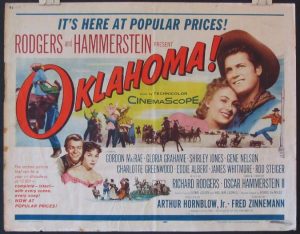 Flather's decision to perform in a cabaret show exploring the socio-political dimensions of the Rodgers & Hammerstein shows and scores came about gradually. It got a first push in September of 2016, when performer Ricky Ritzel overheard her at Don't Tell Mama practicing the title song from The Sound of Music, a number she was working on for her singing lessons. Ritzel told her that she was going to perform the song in the next edition of his ongoing, Bistro Awards–honored show, Ricky Ritzel's Broadway. She told him, "Ricky, I'm a 50-plus-year-old woman."
"I don't care," he replied. "You're a Maria von Trapp. So get ready."
While preparing this song for Ritzel, Flather—a self-described "political junkie"—began hearing Hammerstein's lyrics in a new way. For her, "The Sound of Music" had become "a love song to the planet" and, by extension, a cri de couer for action on climate change.
Before long, things "Rodgers & Hammerstein" began busting out all over in Flather's world.
For a 2016 Doris Dear Christmas show at 54 Below—after the election of Donald Trump—she worked with the late Rick Jensen on a jazz-waltz version of "My Favorite Things," also from The Sound of Music. In the first verse, she omitted some of the items on the familiar list of "favorite" items, leaving gaps in the song—it was as though the singer were struggling to come up with things to feel good about.
During this time, she was caring for her mother, an Alzheimer's patient. Every night, she would break out a cast album or film soundtrack from a different Golden Age musical for the two of them to listen to together. Among the selections the two enjoyed were R&H scores, several of which contained songs that spoke to Flather in a political way.
After her mother's passing, she performed Outbound Plane, a show about grief, in summer 2019. She included a slowed-down version of "A Cockeyed Optimist" from South Pacific, treating the song as "a survival hymn to get through the Trump years."
Before long, she'd assembled enough songs to begin thinking about doing a full show of politically flavored R&H material, demonstrating its relevance for 21st-century listeners. She had inklings of what she wanted to say in such a show, but she needed assurance.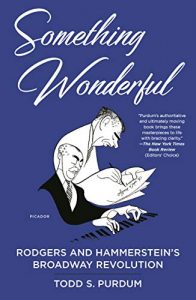 "I literally said a prayer to both Rodgers and Hammerstein. I said, 'Please help me with my thesis. I need to do this show. And I need to find the evidence that you would approve of this show, that many of your songs would tell our story today, and that you would tell our story today.'"
She enlisted the assistance of director Lennie Watts and musical director Tracy Stark, a team that buoyed her during the long process of bringing the project to fruition. She consulted with KT Sullivan to find the best available biography of the songwriting team. Sullivan suggested the 2018 study Something Wonderful, by the previously mentioned Todd Purdum.
Then along came COVID. Far from bringing the project to a halt, however, the pandemic only intensified Flather's focus on the material. "Because of the 'inside time,'" she notes, "the show got the attention and the daily practice that it deserved."
Stark made "gorgeous rehearsal tracks" of the arrangements that she and Flather had worked on in Zoom sessions, so that Flather could practice the songs over and over.  And when Flather sang for Watts on Zoom, he was able to see "every inauthentic moment and every authentic moment" in living close-up, which aided him in his direction.
Watts had steered her away from the idea of including only hits from the famed songwriting team. He'd insisted she consider songs from such R&H misses as Allegro and Pipe Dream. And he'd suggested that she listen to "Lonely Room."
Enacting Jud Fry
Flather had few if any reservations about singing a song written for a man. (In her show, she also performs the King of Siam's "A Puzzlement" from The King and I, the Prince's "Ten Minutes Ago" from Cinderella, and Lieutenant Cable's "You've Got to Be Carefully Taught" from South Pacific.) She notes that the original key of "Lonely Room" fits her voice well. "I'm a mezzo woman but I'm a tenor male," she quips.
However, "Lonely Room" was written not just for any male character but for a haunted, fury-filled one. Purdum describes it as "a brooding soliloquy of angry despair unlike anything ever heard before in a Broadway musical." And the song—like Billy Bigelow's "Soliloquy" in Carousel—is an engine that helps move the story forward. Like Billy, Jud starts his song in one frame of mind and ends it in another—with a determination to take action in order to get what he needs.
"It's an interesting dance…" she explains. "Jud does definitely inform me, but it's my story of all the things in my life that I long for." When Jud seethes about Curly, calling him a "smart-aleck cowhand," Flather keeps in mind the Curlys in her own life: those who've held her back or told her she's not good enough.
Perhaps more daunting for Flather than singing a "man's song" was the whole prospect of singing Rodgers & Hammerstein's music publicly. When Ritzel had overheard her singing "The Sound of Music," it was because she had been using the number as an exercise for her private vocal lessons. (She has studied with voice teachers Carolyn Marcell Elmore and Andrew Byrne.) She'd been trying to bring a finer musicality to the contemporary songs she customarily sings, including her own compositions.
During rehearsals, Watts advised her not to treat R&H's music with too much reverence. "He said, 'You have got to give yourself this music.'"
When she worked on the show's songs with Byrne, she would—for a while—sing them in the style of "Italian art songs." She would stress the lyrics' long vowels ("oohs" and "ahhs"), and she would roll her "r"s. After a while, she dropped that and began practicing with what she calls a "classical musical-theatre approach." She avoided belting, however, which she believes is not quite right for anyone in R&H musicals, except perhaps for Oklahoma!'s Ado Annie.
"You have to have it in that beautiful placement—that mezzo placement—where you're feeling the resonance in your face. You relax the jaw. You relax the tongue. It's forward. And you have that lovely oval shape to your mouth, so that you can go up and down in the song, never side to side…. To me, a 'legit' sound is one voice: that rich resonance, whether you have a high note or a low note."
During one phase of rehearsals, she slowed the song down, in order to clearly establish the acting "beats," always being careful not to "indicate" emotions. The more she practiced, the more she was able to live within the song.
Breaking the Song Down, Then Reconstructing
Viewing "Lonely Room" as a perfect little one-act monodrama, Flather was able to find its component parts, each of which made its own vocal demands.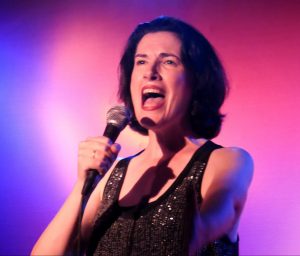 The first "movement" of the relatively short song is one of contemplation, as Jud looks around the dismal room, acknowledging his predicament. Eventually, he begins fantasizing about winning Laurey's affections, about finding release from his pain. Here the melody turns dreamy in certain measures. It begins tilting toward a major key. Then Jud wakes from this reverie, after the words "just like the rain in a storm." Silence follows, as Stark waits for Flather/Fry to sing before striking a note on the piano. In the song's final stretch, Jud is unfulfilled but grows increasingly determined. He is ready to battle for his life. The last three notes (carrying the words "call my own") yearn for resolution. But it's the same note, sung three times. Things don't resolve musically. Happiness has been glimpsed, but its attainment is far from certain.
It's important to Flather and Watts that she be at one with Jud, going through each action, each changing moment, with him. She can't allow herself to anticipate the character's state of mind at the song's conclusion, let alone his horrific fate at the end of Oklahoma! when he falls on his own knife and is killed at Laurey and Curly's wedding party.
That moment of silence before she resumes singing, after Jud awakens from his fantasy, is the most excruciating moment for Flather in the whole R&H show. She has, occasionally, in rehearsals, "nailed" the precise millisecond in which to begin singing again. In some performances "it's been fine," she says. But it's been difficult to hit the mark every time.
One thing that has always been important for Flather when performing is allowing herself to have eye contact with audience members. It helps her to feel she's communicating and even communing with them. But there are certain stretches of this show for which Watts asked that she sing without letting her eyes meet those of her listeners. "Lonely Room" is one of them. "It's probably the one song in the show where there's a theatrical fourth wall," says Flather.
Nevertheless, she feels the presence of the audience as she sings. It would be difficult on this number for her to see into the darkness of the Don't Tell Mama seating area to make eye contact with patrons even if she wanted to. As she sings, she envisions customers' shadows as dark images from Jud's smokehouse home.
Finding the correct slot in the program for "Lonely Room" was very important to Flather. She knew the song would not work if placed too early in the setlist. There is no spoken patter leading into the song, which follows "Something Wonderful" from The King and I and "What's the Use of Wond'rin'?" from Carousel. Those songs, she says, explore romantic partnerships, showing how working through the "messy stuff" in a loving partnership leads to authentic intimacy. She believes that those two numbers—and, in fact, all of the show's previously heard songs—prepare the audience for Jud's anguished, yet hopeful, aria.
Doing Her Homework
In order to make sure she was approaching their material in the ways Rodgers and Hammerstein intended, Flather gave herself many assignments while building her show. She read the script of the stage version of Oklahoma! and had another look at the movie version, dismayed that "Lonely Room" was excluded. She watched a video of the Trevor Nunn production of the musical, featuring Shuler Hensley.
She also found and read Green Grow the Lilacs, the 1930 script by Lynn Riggs from which Oklahoma! was adapted. This gave her much food for thought when planning her show—and some deeper insights into the character of Jud.
Perhaps the most revelatory thing she found was Riggs's description of Jud (called "Jeeter" in Lilacs). Riggs describes him in the script as a "growly, bullet-colored" man.
She learned that Riggs came from a Cherokee heritage and that he wrote about the Cherokee people in some of his other literary works. Although there is no direct identification of Jeeter as a Cherokee (or mixed-blood) character, she surmised that that might have been the intention. (Incidentally, one Oklahoma! production in recent years, mounted in southern California, came to a similar but different conclusion regarding that "bullet-colored" designation. It led to the casting of a Black actor as Jud.)
Many of the story elements in Riggs's play were reduced or altered in Oklahoma!, in part to make room for the songs and dances. In Lilacs, Curly is taken to jail to await trial for his part in Jud's death. He escapes and returns to Laurey for their wedding night, then goes back to jail to await a proper trial. In the libretto for the musical (written by Hammerstein), the community holds what amounts to a kangaroo-court proceeding, skipping legal procedures to exonerate Curly. This rushed, less-than-judicially-sound ending has long been unsettling to certain audience members watching Oklahoma! It's been decidedly unsettling to Flather. Her hypothesis is that this departure from Riggs's scenario was not just a case of making the show's denouement simpler and faster. She believes that Rodgers and Hammerstein wanted to make audiences less than fully comfortable about America's legacy of frontier-style justice. And, she believes, that interpretation jibes with much of the other socially progressive content in the R&H canon.
"I swear, they want us to feel for Jud and to see the Juds in our life and to have more compassion and forgiveness for the Juds in our life," she says. "And to maybe think twice before we behave in the ways that the characters behave [toward him]."
Flather has been moved and encouraged by the favorable response she has received from audiences for her show, and for "Lonely Room" in particular. She knows she's the sort of performer who wears her heart on her sleeve. She believes her particular role as a cabaret singer is "to show what's vulnerable and hidden." She doesn't necessarily create "happy" shows. But she does create shows "where there's vindication."
"I'm melancholy and hopeful at the same time," she adds, "which is why I love Rodgers & Hammerstein."
***
NOTE: The next performance of Meg Flather's Rodgers & Hammerstein 2021+ is set for February 26 at 7 pm at Don't Tell Mama.
---
About the Author
Mark Dundas Wood is an arts/entertainment journalist and dramaturg. He began writing reviews for BistroAwards.com in 2011. More recently he has contributed "Cabaret Setlist" articles about cabaret repertoire. Other reviews and articles have appeared in theaterscene.net and clydefitchreport.com, as well as in American Theatre and Back Stage. As a dramaturg, he has worked with New Professional Theatre and the New York Musical Theatre Festival. He is currently literary manager for Broad Horizons Theatre Company.