Cabaret Setlist: "Mountain Greenery" — Music by Richard Rodgers, Lyrics by Lorenz Hart
December 14, 2020
Repertoire for the Once and Future American Songbook
Song #10 in this running series.
Cabaret Setlist began in May of this year with a look at Richard Rodgers and Lorenz Hart's "Little Girl Blue." I've been tempted to return to the Rodgers & Hart catalog before this, but thought it was too soon. Now that we've reached double digits, however…I surrender.
Town and Country
When you talk about Rodgers & Hart's "Mountain Greenery" (1926), you've first got to consider their earlier song, "Manhattan" (1925). Without a "Manhattan," there likely wouldn't have been a "Mountain Greenery." In fact, there very well might not have been a songwriting team called Rodgers & Hart. Or, at least, not one that we've all heard about.
"Manhattan" had been written for a planned musical (about electricity!) called Winkle Town (1922). When that show failed to materialize, the team packed the song into their trunk for potential repurposing.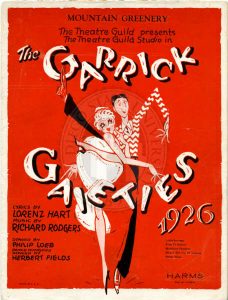 Then, in 1925, "Dick" and "Larry" agreed to work on a benefit show for the Theatre Guild—a satirical revue at the Garrick Theatre, to be called The Garrick Gaieties. According to Hart biographer Frederick Nolan, a performer and member of the creative team for the Gaieties named Edith Meiser had intentions of writing lyrics for the show, perhaps as Rodgers's partner. She listened to him perform some of his and Hart's trunk songs. She was unimpressed until he got to "Manhattan," a musical valentine to NYC and parts adjacent.
"…I flipped," she said of "Manhattan," much later. "I knew this was an enormous, big hit number. You know, sometimes God sits on your shoulder and you know something that is way beyond anything you should know."
Rodgers hoped to bring Hart onboard for the show as well. When the creative team heard Hart's smart and whimsical lyrics, Meiser's hopes for a "Rodgers & Meiser" partnership were mostly dashed (though she did contribute lyrics to one song in the show).
In the benefit performances of the Gaieties, "Manhattan" prompted so many encores that Hart found it necessary to write additional lyrics. Eventually, the song helped get the show a proper Broadway run, and the sprightly number became an international sensation. In the interim between the 1925 Broadway edition and a planned 1926 installment, the recently struggling team managed to have two book shows mounted on Broadway (Dearest Enemy and The Girl Friend).
Skittish about the prospect of duplicating their initial success, Rodgers & Hart reluctantly agreed to write songs for the new edition. They wanted something comparable but fresh to reignite the magic of "Manhattan." Instead of penning another paean to city life, they decided to extol the pleasures of summer escape to the countryside. "Mountain Greenery" became a "rustic riposte" to "Manhattan." It was sung by Sterling Holloway and Bobbie Perkins and was a highlight of the otherwise mostly disappointing Gaieties sequel. Gawky young Holloway—who would go on to a career in Hollywood, where he would work with the likes of Walt Disney and Gene Autry—had introduced "Manhattan" in the original show, along with June Cochrane.
I was unable to locate any recording of Holloway and Perkins singing "Mountain Greenery." But when MGM filmed Words and Music (a notoriously untrue-to-life 1948 Rodgers & Hart biopic), Perry Como and Allyn Ann McLerie performed a souped-up (and, arguably, too-cute-for-comfort) depiction of the song's 1926 debut in the Gaieties: 
Rhyme Scheme-ry
 In his autobiography, Musical Stages, Rodgers describes an important ingredient of Hart's "Mountain Greenery" lyric: "The whole attitude was one of urban sophistication amid a rustic atmosphere, which gave Larry a chance to play around with such tricky interior rhyming as 'Beans could get no keener re-/ Ception in a beanery./ Bless our mountain greenery home.'"
Much of the song's appeal comes from just this juxtaposition of a cosmopolitan sensibility with a bucolic situation. It's a theme seen in Shakespeare's As You Like It and extending all the way to such television comedies as Green Acres and Schitt's Creek: city slickers "roughing it." As commentator Philip Furia, has noted, the vacationing urban folk in this song "regard 'nature' as a superb artifice where 'God paints the scenery.'" (Meanwhile, they cope with the aroma of citronella and a diet that relies heavily on canned beans.) In the course of the number, Hart's fish-out-of-water central figures (and the ensemble) allude to the Book of Genesis (with the Old Testament's forbidden fruit viewed as an ingredient for applesauce), The Rubaiyat of Omar Khayyam ("We'll learn a lesson from Mister Omar"), and—in one of the song's encores—violin virtuoso Jascha Heifetz.
Triple-syllable rhymes (greenery/scenery, lover let/ coverlet) pervade the song right from the opening verse, in which Hart launches the wonderful tri-part salvo: "dust you wait" / "must you wait" "just you wait." The rhymes are not always subtly executed, but that's part of the fun. Just as with "Manhattan"—in which Hart rhymes "spoil" with "goil" and "Greenwich" with "men itch"—it's the unabashed outlandishness of the "Mountain Greenery" rhymes that makes them so delicious. A kind of "what will Hart rhyme next?" expectation is built into the number, recalling W.S. Gilbert's lyrics for the Major General in The Pirates of Penzance, where tortured rhymes fly about until, finally, "strategy" is rhymed with the nonsensical "sat a gee." Hart's humor, like Gilbert's, depends on a progressively preposterous rhyme spree. When, in one of the song's encores, he writes, "While you rest, my mama, let/ Papa fry an omelette," it's almost as though he's inviting audible groans from his listeners.
But there's more-subtle wordplay in the song too. The very first line of the first refrain—"In a mountain greenery"—tampers with grammatical expectations by making "greenery" a "countable" noun (that is, one requiring the article "a"). "Greenery" is something that sprawls in all directions. "A greenery," on the other hand, suggests not verdant ambience but a sort of commercial enterprise: something akin to a refinery or a brewery (or, for that matter, a "beanery").
Musically, the song is quite ambitious. In the version most often heard, there are two verses and two refrains. But in the full version from the Gaieties, there is an extra section referred to as "trio patter" (the "When the world was young…" section partially heard in the Words and Music clip, above) that has a different melody from both verse and refrain. Many performers have omitted this section, while others have included certain portions of it. Additionally there are two encore refrains.
While the lyrical focus of the song seems to reside in the triple rhymes, it's Rodgers's use of repeated single notes that, perhaps, gives the song its melodic vitality. Here's what song scholar/composer Alec Wilder has to say about this in his famous 1972 study, American Popular Song:
"[This] song is a true swinger. And maybe there is validity to my theory about the aggressiveness of repeated notes, since this is one of Rodgers' most driving songs. And it's certainly predicated on repeated notes, right from the start."
Twenty Years On
While the lilting "Mountain Greenery" became an American standard soon after it was hatched at the Garrick Theatre, the song's popularity fluctuated over the years. Recordings of it in the 1930s and 1940s seem sparse compared with the number of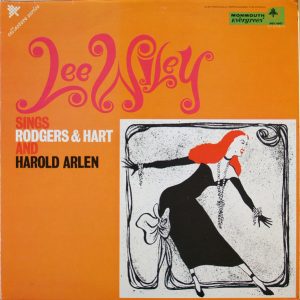 recordings from the 1950s, when lilt gave way to swing and this "driving" song became a jazz classic.
Lee Wiley, who had championed the Rodgers & Hart catalog throughout her early career, released a recording of "Mountain Greenery" in 1954  and, in it, you can hear the song spiral jazz-ward. It's likable, if you can overlook Wiley's pronunciation of "than" as "then" and her singing of the line "No dear mama holds us in tether" as "No dear mama holds us together" (which says exactly the opposite of what Hart had intended): Hear Wiley yourself.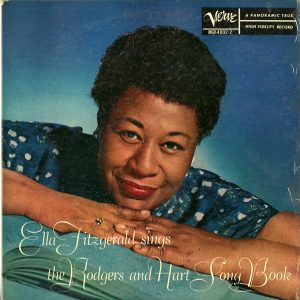 During the next few years, the real resurrection happened. The song was recorded memorably by Ella Fitzgerald, Bing Crosby and Buddy Bregman, Jackie and Roy, and Bobby Troup. The Fitzgerald version, also arranged by Bregman, is fairly sedate: Listen to Ella's version here. The Crosby version is—for Crosby—quite swingy: And here's a swinging Bing. 
But the iteration released by Mel Tormé exceeded the others in fame and popularity. "Mountain Greenery" became a signature song for him, and he recorded it again in a 1981 live version.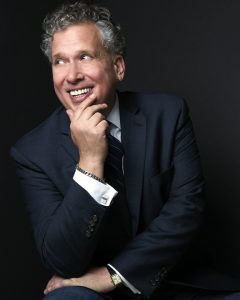 I called on singer (and two-time Bistro Award honoree) Billy Stritch—who has recorded the song three times, including for a Tormé tribute album in 2007—and asked him which, among all the 1950s renditions, was responsible for revitalizing "Mountain Greenery."
"I can't be totally sure," he says, "but I think it might have been Mel's recording…that was responsible (or partially responsible) for breathing new life into [it]. That seemed to happen a lot back then. A popular singer in the '50s (Sinatra, Nat Cole, Rosemary Clooney, etc.) would take an old song from the 1920s or '30s and reimagine it newly orchestrated to fit the current, hipper, jazzier style."
And why was the song such a good match for Tormé?
"W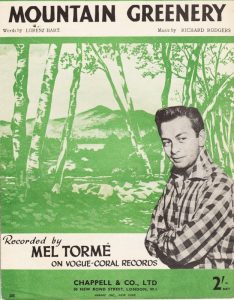 ell, Mel loved a good lyric, first and foremost…" Stritch explains. "Musically, the chord changes lend themselves to improvisation and a swing feel, so I think selecting the song was sort of a no-brainer for Mel. He recorded it on a live album at the Crescendo [a Hollywood nightclub] in the '50s, and when he made his first tour of the UK the following year, a very influential radio DJ there started playing the song in heavy rotation. The record was never meant to be a single release, but the performance was so great and caught on so quickly in England that by the end of his tour it was in the top ten…." Click to hear Tormé's "Greenery."
Stritch himself has sung the song from the start of his career—he actually included it on his first demo tape when he was 16. He has especially enjoyed performing it in shows with his friend Marilyn Maye. But he first heard it on television in a saucy, playful version sung by Dick Van Dyke and Mary Tyler Moore (as Rob and Laura Petrie) in a 1962 episode of The Dick Van Dyke Show. Noting that the arrangement on the sitcom owed much to that used by Jackie and Roy, Stritch says that while he loved the Rob-and-Laura performance itself, he was drawn in also by "the whole scenario of talented people just getting up to perform at a party." Does anyone remember this scene from The Dick Van Dyke show? Click to watch.
 (Belated happy 95th birthday wishes, Dick Van Dyke!)
"That's the life I wanted to live in," Stritch adds, "and I was lucky once I moved to New York to experience exactly those kinds of evenings."
The arrangement Marilyn Maye used was, for Stritch (in the beginning, anyway), even more influential than the Tormé rendition.
"She does a 16-bar scat section in the middle, and that sort of stuck with me. I was young and very impressionable and just starting to find my own style, and Marilyn was a huge influence on me then. Actually, she still is! We've been working together on and off for 40 years now—and working with her is one of the joys of my life. She's my Auntie Mame!"  Hear Stritch swing with "Mountain Greenery."
Back to Nature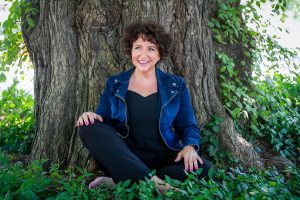 For cabaret artists who want to put their own spin on "Mountain Greenery," ignoring its reputation as a swinging jazz staple may seem next to impossible. But 2019 Bistro Award recipient Lisa Viggiano managed to find her own way into the song with relative ease.
As a teenager and young adult in New Jersey, she had traveled throughout the Tri-State area, performing with a jazz band. The musicians had played "Mountain Greenery" as an instrumental-only piece. Viggiano knew the title, but she'd never paid much attention to the song and had no idea about the lyrics.
In 1999, when she was planning her first Don't Tell Mama show, she combed through musical-theater scores in the back room of the Performing Arts Library at Lincoln Center.
"When I saw the lyrics for "Mountain Greenery," it was just, 'Oh, my God, that's so me!'  'Cause I'm a nature freak. I grew up in Bayonne, which is not wooded…. But when I was a little kid, my father liked to camp and stuff, so we would occasionally go off in the woods, and I loved it, loved it, loved it."
Teaming with musical director Christopher Marlowe, she worked to find the right mood for the song. "I said, 'I'm hearing this like a campfire song,' and Chris [on piano] just started playing it…like picking on a guitar." (To my ears, the Marlowe arrangement sounds more like a tinkling music box, especially when, near the beginning, Viggiano twice pauses momentarily, as though she has closed and then reopened such a device.)
Noting the many component parts of the song, Viggiano explains how she and Marlowe selected the portions that felt most relevant to her. She omitted the introductory verse, included only some portions of the "trio patter," and skipped the encore refrains that she'd found in a book of Hart's collected lyrics. "That's such a gift to a singer—to have so many options within the song—to choose what really works for you."
Along the way, Viggiano listened to other versions of the number, including the Fitzgerald and Tormé cuts. She enjoyed them, but they did not affect the direction in which she and Marlowe were taking the song. She says that Marlowe was able to lend the song a haunting quality that it customarily lacks. Also, she zeroed in on a bit of possible dramatic conflict in the lyric, when the song's "he" character volunteers to fetch wood for the "she" character, so that he can then stand back and watch her at work in the kitchen.
"It's a funny feminist thing—like 'Great. I'm gonna cook. You just stand there.' And then, at the end, I'm cooking, and then I look up and 'you're looking,' and there's like this development of a relationship over time. It…happens in the world of this one little song." Listen to Viggiano's sweet and simple "Greenery."
Viggiano has made "Mountain Greenery" part of her ongoing repertoire. As she and her husband of more than two decades have gone from being newlyweds to parents and beyond, the song has taken on different sorts of resonance. In later years, while singing the lyric about "sandwiches and beans," she would think of hiking while toting one of her kids in a backpack—with snacks on hand to enjoy at a resting place.
In all the years she's sung the number, she's never departed from the Marlowe arrangement. She's ordinarily happy to explore new approaches to songs she's performed previously. "But with this one…if the musical director or musician—pianist or guitarist—doesn't want to do it exactly the same way, I totally respect that. And I would say, 'OK, then we don't need to do the song.'"
During the long months of this year's pandemic, Viggiano has been planning multiple cabaret shows for the time when things finally reopen. One show has to do with nature and the environment. For this program, "Mountain Greenery" will definitely be revived yet again.
She notes that she and her family currently live just blocks from an arboretum. During these Covid times, she has gone there daily to commune with nature.
"When I sing it again," she says, "I'll think about how the trees got me through this time."
---
About the Author
Mark Dundas Wood is an arts/entertainment journalist and dramaturg. He began writing reviews for BistroAwards.com in 2011. More recently he has contributed "Cabaret Setlist" articles about cabaret repertoire. Other reviews and articles have appeared in theaterscene.net and clydefitchreport.com, as well as in American Theatre and Back Stage. As a dramaturg, he has worked with New Professional Theatre and the New York Musical Theatre Festival. He is currently literary manager for Broad Horizons Theatre Company.