CD Review: Ann Kittredge's "reIMAGINE"
January 9, 2023
Even if its arrangements and vocal interpretations weren't bursting with an inventiveness that leaves one awestruck, vocalist Ann Kittredge's debut CD, reIMAGINE, would still be an irresistible musical treat. Kittredge possesses a beautiful, evocative instrument, and hearing her sing is pure pleasure in itself. Yet
in this aptly titled 13-track album, she puts her voice to use radically reimagining familiar pop tunes and songs from Broadway shows and films, with astounding novelty and courage. In some cases, she jolts the ear with nervy alterations of a song's musical details. Other times, she proffers shocking conceptual surprises that will have you gasping gleefully. And more often than not, she takes a song you adore and tackles it in a manner that makes you like it even more.
The CD's biggest shocker comes a few tracks in when, after several simple bars of introductory acoustic-guitar chord arpeggiations, such as typically kick off a mellow folk song, Kittredge oh-so-quietly, and seriously, starts to sing "Ah! Sweet Mystery of Life" (Victor Herbert, Rida Johnson Young)—surely the most oft-parodied, old-fashioned operetta tune of all time! Written in 1910 for Naughty Marietta, the song is easily ridiculed for its overwrought expression of romantic yearning. But here, in a brilliantly reconceived arrangement by Alex Rybeck, Kittredge's soft, caressing vocals, supported by just the bare guitar work of Sean Harkness, authentically convey the song's enormous sentiments with exquisite simplicity.
Also delightfully astonishing is what happens a little bit later, after Kittredge sings a bouncy arrangement (by Rybeck) of Irving Berlin's "Snow," a cheery, holida y-season toe-tapper from the 1954 musical film White Christmas. Shifting the focus from her own reimaginings to those of the composer himself, Kittredge defies the conventions of a musical album and delivers a passage of informative patter like singers insert between songs in cabaret stage shows. And what she tells us about the next song, "Free," is fascinating. She explains that Berlin wrote it for the 1950 Broadway musical Call Me Madam, but it was cut from the show because "the powers that be" thought it was too preachy. A few years later, retaining the melody but completely reimagining the song's spirit, style, and lyrics, Berlin made "Snow" out of what had originally been a soulful, prayer-like paean to the human right to freedom. Kittredge begs "Preach, Irving, preach," and then treats us to a stirring performance of "Free."
Yet the boldest of the album's reworkings is, perhaps, Kittredge's joyous performance of Wendy Cavett's highly unusual arrangement of Before the Parade Passes By (Jerry Herman), that rousing march tune from Hello, Dolly! (1964). While still conveying the song's signature get-up-and-go attitude, not only does the singer actually alter pitches in the melodic lines of the opening strains, but the music is quickly overtaken by Latin dance rhythms and the number evolves into a saucy, celebratory affair.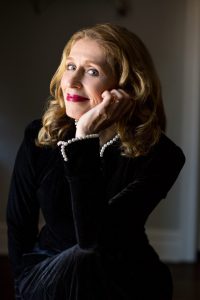 Arranged by Tracy Stark, Jon Delfin, and Kittredge, the recording's affecting pairing of "Hi-Lili, Hi-Lo" (Bronislau Kaper, Helen Deutsch) and "Love Makes the World Go 'Round" (Bob Merrill) also toys unexpectedly with the essential musical make-up of the songs. Conceptually, the two selections mate naturally, as "Love Makes the World Go 'Round" comes from the Broadway musical Carnival (1961) and "Hi-Lili, Hi-Lo" is the theme from Lili, the 1953 film upon which the musical is based. However, Kittredge blends them so tightly that, first, you barely notice when, seemingly mid-phrase, she shifts from her thoughtful rendition of "Hi-Lili, Hi-Lo," with its tinkly, music box-like piano accompaniment, into a sweeping, Viennese waltz-like performance of "Love Makes the World Go 'Round." Then, after shifting seamlessly back and forth again, she begins to alternate between the songs phrase by phrase, punctuating single lines of "Love Makes" with just a few bars of "Hi-Lili," until we no longer realize she's singing two different songs.
Jim Croce fans will not be disappointed by Kittredge's interpretation of his folk-rock classic "Time in a Bottle," and may appreciate the expressive power of the song even more after hearing her sing it. Kittredge performs it with a more pronounced sense of phrasing than he does, and with liquid momentum. We feel a greater urgency to the song's rhythms and emotional content, and as she punches out the lyrics, we're struck by how we don't seem to miss Croce's deep, soothing tones. In this arrangement (by Cavett and Kittredge), the song seems written for Kittredge's crystalline sound.
Another of the CD's highlights is a Harkness and Christopher Denny arrangement of Camelot's (1960) "Before I Gaze at You Again" (Alan Jay Lerner, Frederick Loewe) that Kittredge sings with remarkable gentleness, very slowly and quietly, as if tip-toeing through the measures before gradually relaxing into a lilting ease. I've never heard this song sound so pretty.
Kittredge closes her album with "Edelweiss" from The Sound of Music (1959). It's the last song Richard Rodgers and Oscar Hammerstein ever wrote together. She is joined by guest vocalist Steve Ross in an arrangement (by Ross and Denny) that strips the song of the syrupy romantic qualities that often drip onto it when it's performed in its theatrical context. We can really hear the beauty contained in the song's solid, simple structure. It makes a comforting ending to the CD's journey through Kittredge's adventurous imagination.
###
---
About the Author