Club Review: Ronny Whyte's "Swinging Sondheim"
January 9, 2023
The urbane sophistication and consummate musicality of singer/pianist/songwriter Ronny Whyte proved a perfect match for the artistry of Stephen Sondheim in the new show, Swinging Sondheim, which debuted this month at Birdland. He treated the songs with style and reverence, as he would Porter or Gershwin or any other great songwriter; his treatments had a distinct vitality and freshness, not beholden to the songs' theatrical origins, that allowed them to be heard in new and exciting ways.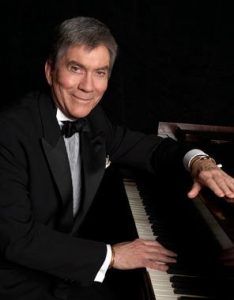 The lyrics of the opener, "Another Hundred People" (from Company) became the wry and eyes-wide-open observations of someone who has been around a New York City block more than once. There was the pulse of the city in the arrangement and, staying true to the title, it swung like crazy. He was ably abetted in this endeavor, as throughout the evening, by Boots Maleson on bass and Ray Marchica on drums. Next, he dove right into the deep end by doing a lovely "Send in the Clowns" (from A Little Night Music), in which his phrasing had a natural, conversational tone, with a reserve and thoughtfulness that set it apart from other interpretations. Whyte revealed that in his early nightclub days of saloon singing and sparkling "in" crowds, Sondheim would often show up and on occasion "give" him a song to share with the world. He then treated the audience to a rarity called "That Old Piano Roll" that had originally been sung by Buddy in Follies but was cut before opening. It was a delight, filled with infectious, nimbly played rag rhythms and rife with echoes and previews of chord progressions and changes that would reappear in future shows.
Then Whyte turned over the keys to Cecilia Coleman and took center stage for the rest of the show. Coleman's playing was a perfect addition. Also added to the musical mix was Ron Horton on flugelhorn; his warm and supportive sound elevated the musical backdrop to even more lovely heights. A warm, winning, understated "Small World" (with Jule Styne from Gypsy) was one of the highlights of the night. It was beautifully phrased against a lilting, insinuating slow swing. Saturday Night provided "So Many People," a rarely done ballad that, along with "Small World," place Swinging Sondheim near the top of my list of tributes to the master. Saturday Night also supplied the one misstep of the show and the one most tied to its Broadway roots, "What More Do I Need?" Neither its story nor its style proved a good fit for the singer or his musicians.
"Losing My Mind" from Follies also benefited from the singer's understated phrasing—no histrionics, just simple, touching emotion, highlighted by his almost ironic, "…or am I losing my mind" at the climax. "I've Got You to Lean On" (Anyone Can Whistle) found Whyte in full swing mode transforming the rarely done song into something special indeed. Continuing with that show, "With So Little to Be Sure Of" was especially romantic and moving with the singer digging deep into the haunting lyrics and hushing the room. Special guest Ben Cassara then took the stage for the title song from Whistle. While I may have missed the fragility and longing that inform the lyrics, Cassara's insouciance and obvious delight at being there, along with a good singing voice and an easy rapport with the band, carried the day.
"The Best Thing That Ever Happened," the best song to ever happen to Sondheim's last Broadway score, Road Show, was rescued in fine fashion. The title song of Do I Hear a Waltz? lightened things up, with its delightfully witty lyrics served up in fine style, while Coleman, switching to trumpet, jazzed up the jazz waltz. Revealing that he had once played Bobby in Company, Whyte included one of the score's finest moments, Someone is Waiting, in a beautiful and touching moment hinting at how fine he must have been in the role. This was unexpectedly, but quite movingly, paired with "Being Alive," from the same show, blessedly free of histrionics but still strong and thrilling. The evening began to wind up with another unexpected choice, "All I Need Is the Girl" (from Gypsy) which, in addition to the sparkling vocals, showcased Coleman on piano.
While this show did not allow for the inclusion of his own songs, he did dare to re-write a Sondheim song—an endeavor rife with danger that has done in many an otherwise talented lyricist, but Whyte sailed through with the proverbial colors as he reimagined "I'm Still Here" (from Follies) with autobiographical detail and reminiscences of New York's legendary boîtes and clubs. It was the perfect ending to a delightful evening. There have been so many Sondheim tributes in the year since his passing and many have been fine, and pleasantly taken up residency in my memory, but Ronny Whyte's Swinging Sondheim, has taken up residency in my heart as well. I hope he brings it back soon.
###
Presented at Birdland Theater, 315 W. 44th St., January 5, 2023
---
About the Author
Gerry Geddes has conceived and directed a number of musical revues—including the Bistro- and MAC Award-winning "Monday in the Dark with George" and "Put On Your Saturday Suit-Words & Music by Jimmy Webb"—and directed many cabaret artists, including André De Shields, Helen Baldassare, Darius de Haas, and drag artist Julia Van Cartier. He directs "The David Drumgold Variety Show," currently in residence at Manhattan Movement & Arts Center, and has produced a number of recordings, including two Bistro-winning CDs. He's taught vocal performance at The New School, NYU, and London's Goldsmith's College and continues to conduct private workshops and master classes. As a writer and critic, he has covered New York's performing arts scene for over 40 years in both local and national publications; his lyrics have been sung by several cabaret and recording artists. Gerry is an artist in residence at Pangea, and a regular contributor to the podcast "Troubadours & Raconteurs." He just completed a memoir of his life in NYC called "Didn't I Ever Tell You This?"