Club Review: "Ann Hampton Callaway Sings Peggy Lee and the Songs of the '70s"
January 19, 2023
Ann Hampton Callaway is a seasoned jazz artist, songwriter, an interpreter of the American Songbook, and an entertainer who knows how to work a crowd—especially when her ex-husband is bravely sitting in the front row.
Her show at 54 Below on Sunday, January 15 was a half-and-half evening of Peggy Lee and 1970s pop, which was a bit like a great chef reimagining the leftovers from her fridge. Very tasty, but the content was perhaps not as cohesive as it would have been with each idea treated separately, or with some kind of thematic segue between them. Fortunately, Callaway is good. Being at her table was more than enough. (The reason for the combo show was that it was also an APAP conference showcase, where presenters see performance excerpts so they can consider programming for their venues.)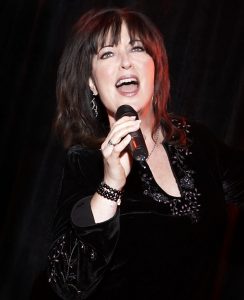 Peggy Lee, with her measured, minimalist confidence and prolific songwriting career, is a beautiful fit for Callaway, who brought her own ease and sophistication to "Fever" (Eddie Cooley, Otis Blackwell, Peggy Lee). Callaway did Lee's Romeo & Juliet verse, and then had the good taste to skip the Captain Smith verse with its colonial fictions in order to give us some snappy original lyrics about Ms. Lee instead. Peggy Lee's cover of the Benny Goodman hit "Glory of Love" was written by Billy Hill, and that night, it was aided and abetted by Billy Stritch. If there's one guy in town who will not only sub on piano at the last minute, but do a vocal duet that includes scatting—and make flying by the seat of your pants sound fun for everyone—it's him. Stritch was ably filling in for Ted Rosenthal, with Martin Wind on bass and Tim Horner on drums, who are also the personnel on Callaway's new album, Fever: A Peggy Lee Celebration.
"The Folks Who Live on the Hill" (Jerome Kern, Oscar Hammerstein II) was a standout ballad, showcasing Callaway's rich lower range and bringing real pathos to the story. Equally poignant was "Johnny Guitar" (Victor Young, Peggy Lee) from the 1954 film of the same name. Callaway's brooding version went beyond its potentially kitschy semi-Spanish flavor and evoked what she'd shared about Lee's love and loss story with her first husband, guitarist Dave Barbour.
Switching to the '70s repertory, Callaway played piano for an understated and personal version of Joni Mitchell's "A Case of You," working up close to the mic and adding a little breath to her sound—evocative of the sandy texture of mature Joni's voice. Callaway did a vocal run in this song that gave me shivers; many of her small improvisatory moments that evening were on blues scales, but this one really showed the depth of her musical vocabulary. "New York State of Mind" (Billy Joel) was done as a jazz tune with a walking bass and was right in Callaway's wheelhouse. She tore into "You're No Good" (Clint Ballard Jr.) made famous by Linda Ronstadt, and Callaway's ex, seated in the front row, was lucky enough to have the song personally dedicated to him. Not to be outdone by rogue family members, Ann's sister Liz Callaway stepped up to close with a duet of Carol King's "You've Got a Friend." Both accomplished performers in their own right, they have real chemistry together on stage and are different kinds of singers, which is a good sign that their touring sister act could also be a fun night.
***
Presented at 54 Below, 254 W. 54th St, on January 15, 2023.
---
About the Author
From Canada, Penelope Thomas came to NY to study dance with Merce Cunningham; then through a series of fortunate and unfortunate events, she wound up back in singing and acting. Credits include lead vocals with FauveMuseum on two albums and live at Symphony Space, singing back-up for Bistro Awards director Shellen Lubin at the Metropolitan Room, reading poet Ann Carson's work at the Whitney, and touring North America and Europe with Mikel Rouse's The End of Cinematics. In Toronto, she studied piano at the Royal Conservatory of Music and cello with the Claude Watson School for the Arts, and in New York she studied music theory with Mark Wade. She's taught in the New School's Sweat musical theatre intensive and taught dance in public schools and conservatories.