CD Review: Jane Monheit —"Come What May"
March 7, 2021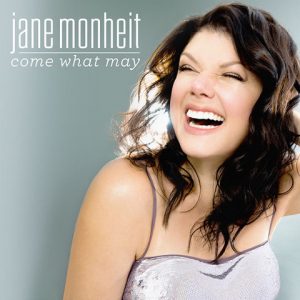 Jane Monheit's latest release, Come What May, is a timeless collection of standards.  The terrific orchestrations, including gorgeously utilized strings courtesy of Wayne Haun, the tasteful song selection and vocals displaying heart, brains, and accomplished musicality add up to an album that is as fresh as tomorrow while achieving a classic sound that would have not been out of place in the '60s and '70s, alongside the likes of Chris Connor, June Christy and Rosemary Clooney.  
The festivities open with Frank Loesser's "I Believe in You," which swings like crazy, has some delightful scat, and a hot piano by Michael Kanan.  There are some unfortunately dated male/female dynamics in "When a Woman Loves a Man" (Bernie Hanighen, Gordon Jenkins, Johnny Mercer), but Monheit cuts right through it with a bittersweet, focused vocal, tinged with the blues.  "Let's Take a Walk Around the Block" (Harold Arlen, Ira Gershwin, E.Y. Harburg) very smartly includes the rarely done verse that perfectly sets up the song specifically and universally. Cushioned by some tasty bass by David Robaire, the singer jubilantly skips through the fun and funny lyrics with humor and clarity.  I just love a good list song!
"Lush Life" (Billy Strayhorn) is not totally successful, but the failings are not really Monheit's doing.  Rather than sing the song through once and end it having finished the world-weary, heartbreaking tale, this arrangement builds in an unnecessary reprise after an instrumental break.  It is at best redundant to go back over these lyrics and, at worst (as is the case here) it pushes the singer to cross over into melodrama and big notes to differentiate it from the first iteration. The forced vocals unbalance what had been a perfectly presentable version of the warhorse except for committing a cardinal jazz sin of getting the lyrics wrong—singing "…distant gay traces" instead of "…distingué traces."
 But it is immediately back to the good stuff with an ornately orchestrated "Let's Face the Music and Dance" (Irving Berlin) that becomes very film noir, with some well-chosen scat adding to the urban sheen. The singer gives her voice full rein as she careens through changing tempos and rhythms.  Miles Okazaki's guitar is the perfect partner for the vocalist as she touches lightly on Antônio Carlos Jobim's "Samba do Avião."  I can only hope that she plans further visits south of the border in the future. The arrangement for "The Nearness of You" (Hoagy Carmichael, Ned Washington) begins with an atmospheric clock-ticking sound under the verse and then blossoms into Monheit's swooningly romantic foray into a quintessential love song.
It is a particular pleasure to hear "Get Happy" (Harold Arlen, Ted Koehler) in a medley with a song that is not "Happy Days Are Here Again."  She pairs it here to great effect with "On the Sunny Side of the Street" (Jimmy McHugh, Dorothy Fields) creating a neat antidote to the oppressively pandemic-filled days and nights we are experiencing.  "Lush Life" is not the only warhorse that Monheit attempts on this recording.  In addition, there is "The Man That Got Away" (Harold Arlen, Ira Gershwin),  but, happily, this turns out to be a personal triumph.  She doesn't try to mimic or compete with the scope and overwrought drama of previous versions but, instead, digs deep into the lyrics and goes for heartache rather than bombast.  It is beautifully done. And to complete her warhorse hat trick, she leaves us with a warm and romantic caress—a "My Funny Valentine" (Richard Rodgers, Lorenz Hart) from which she wrings every bit of poignant beauty in both lyric and melody.  
Come What May is Jane Monheit's most mature and consistent recording to date. It leaves me wanting more of her distinct and moving blend of traditional pop jazz vocals and a lively mix of scat and vocalise that is decidedly and defiantly her own.
---
About the Author
Gerry Geddes has conceived and directed a number of musical revues—including the Bistro- and MAC Award-winning "Monday in the Dark with George" and "Put On Your Saturday Suit-Words & Music by Jimmy Webb"—and directed many cabaret artists, including André De Shields, Helen Baldassare, Darius de Haas, and drag artist Julia Van Cartier. He directs "The David Drumgold Variety Show," currently in residence at Manhattan Movement & Arts Center, and has produced a number of recordings, including two Bistro-winning CDs. He's taught vocal performance at The New School, NYU, and London's Goldsmith's College and continues to conduct private workshops and master classes. As a writer and critic, he has covered New York's performing arts scene for over 40 years in both local and national publications; his lyrics have been sung by several cabaret and recording artists. Gerry is an artist in residence at Pangea, and a regular contributor to the podcast "Troubadours & Raconteurs." He just completed a memoir of his life in NYC called "Didn't I Ever Tell You This?"