CD Review: Rebecca DuMaine and The Dave Miller Trio—"Someday, Someday"
March 7, 2021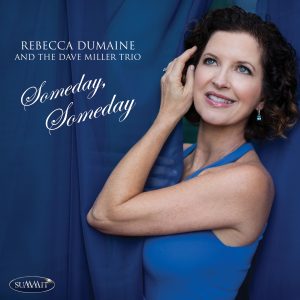 Rebecca DuMaine has a lightness and fragility to her sound that calls to mind Blossom Dearie, and, as with Blossom, that lightness extends to her perfectly realized scat in musically astute, smile-inducing style.  Her terrific  new recording, Someday, Someday, is filled with great songs (both classic and contemporary) and offers many pleasant surprises.  It is also filled with great playing by the singer's father, Dave Miller on piano (he also supplied all the arrangements), Chuck Bennett on bass, and Bill Belasco on drums.
The album opens with an unexpectedly rollicking version of "Just Friends" (John Klenner, Sam M. Lewis) revealing a resiliency against loss and sadness, a refusal to give in to heartbreak with unassuming strength that creates an album offering interesting re-examinations of well-known material.   She never denies the hurt but she never lets it overwhelm her.  The words to "Alone Again (Naturally)" (Gilbert O'Sullivan) become new and fresh from this perspective, replacing what can be overwhelming angst with healthy acceptance. Her repeated "alone again"s in the closing moments are an inspired ending.
Amid haunting chord changes, pleasant echoes of Astrud Gilberto abound in "Samba de Mon Coeur Qui Bat" (Benjamin Biolay) but with considerably more spine.  One of my favorite Rodgers & Hammerstein songs, "The Gentleman Is a Dope," stands out with a sparkling arrangement in which she makes a feast of the tasty lyrics while swinging to beat (or in this case match) the band.  Her "Both Sides Now" (Joni Mitchell) has a sweetness that is lovely and a simplicity of delivery that allows the poetry to work for itself without overemphasis.  
The recording includes two of the singer's original songs. The title song is musically derivative (apart from impressive percussion by Belasco) and lyrically problematic, but, on the other, "Time to Get Unstuck (Happy Little New Song)," the words are strong and flow naturally over an insinuating melody. "As Long as I Live" (Harold Arlen, Ted Koehler) affords an extended scat chorus showing off DuMaine's savvy musicality against Miller's sparse accompaniment, displaying the swinging reserve of Count Basie.  A slower than expected "On a Clear Day" (Burton Lane, Alan Jay Lerner) sparkles anew in a performance filled with hope and wonder.  
If nothing else, this recording would have had me at "I Guess I'll Have to Change My Plan" (Arthur Schwartz, Howard Dietz), one of my favorite songs from my favorite movie musical, The Band Wagon, and Jack Buchanan's finest three minutes. It starts as a sad and slow acceptance of heartbreak and grows into a soft-shoe shuffle that perfectly cushions DuMaine's bittersweet vocal. "Cry Me a River" (Arthur Hamilton) is done in three-quarter time over the usual bluesy-ness, and it is a literal breath of fresh air. The brittleness of her delivery and her understatement really work here.  The singer and her trio transform "La Vie en Rose" (Louiguy, Marguerite Monnot/Édith Piaf) into something downright Ellingtonian.  
"Wrap Your Troubles in Dreams" (Harry Barris/Ted Koehler, Billy Moll) is the most explicit declaration of what I suspect she wanted the entire project to be: a tuneful roadmap out of these dark and depressing times. She closes grooving on Bobby Hebb's "Sunny" and offers a post-pandemic forecast of much better days ahead.
Someday, Someday and Rebecca DuMaine's vocals display an economy, intelligence, warmth, and energy that make the recording an entertaining and welcome respite from the madness the world has to offer at the moment.  
---
About the Author
Gerry Geddes has conceived and directed a number of musical revues—including the Bistro- and MAC Award-winning "Monday in the Dark with George" and "Put On Your Saturday Suit-Words & Music by Jimmy Webb"—and directed many cabaret artists, including André De Shields, Helen Baldassare, Darius de Haas, and drag artist Julia Van Cartier. He directs "The David Drumgold Variety Show," currently in residence at Manhattan Movement & Arts Center, and has produced a number of recordings, including two Bistro-winning CDs. He's taught vocal performance at The New School, NYU, and London's Goldsmith's College and continues to conduct private workshops and master classes. As a writer and critic, he has covered New York's performing arts scene for over 40 years in both local and national publications; his lyrics have been sung by several cabaret and recording artists. Gerry is an artist in residence at Pangea, and a regular contributor to the podcast "Troubadours & Raconteurs." He just completed a memoir of his life in NYC called "Didn't I Ever Tell You This?"