CD Review: Sean Patrick Murtagh's "The Mario 101! A Celebration of the Mario Lanza Songbook"
January 3, 2023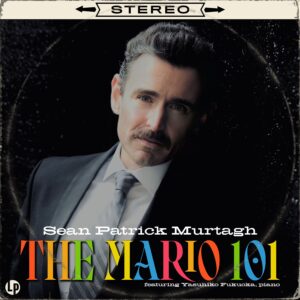 While tenor Sean Patrick Murtagh's debut album, The Mario 101! A Celebration of the Mario Lanza Songbook, is vocally magnificent, his singing style is not of the ilk typically relished by cabaret connoisseurs. With his warm, slender, operatic voice, Murtagh grasps the dramatic arc of a song and renders it musically, prioritizing the aural aesthetics of emotional expression over conveyance of the verbal content or literal meaning of a lyric. And tenors can be an acquired taste. As he reaches for his stratospheric notes, you can feel Murtagh stretching with all his might, giving the kind of full-force effort that excites opera audiences, who thrill in cheering the "athletics" of a tenor's vocal performance.
A tribute to the iconic Hollywood film-star tenor of the 1940s and 1950s, Murtagh's CD comprises 12 Mario Lanza-associated songs—standards, show tunes, and arias—rendered in spare arrangements by the recording's musical director and pianist Yasuhiko Fukuoka. The subservient, piano-only accompaniments spotlight Murtagh's showy vocal work, letting the singer hold his "money notes" to his heart's content and luxuriate in big, open vowel sounds that sometimes transform a lyric's conversational words into what register as independent, albeit gorgeously-sung, syllables. Murtagh wouldn't win any awards for diction, but if you savor exhilarating, melodic vocal music, you will delight in his passionate salute to Lanza.
The CD opens with a straight-forward rendition of My Fair Lady's "On the Street Where You Live" (Alan Jay Lerner, Frederick Loewe), introducing Murtagh's impressively altitudinous range and his "scooping" approach to high notes that, though initially irksome, grows appealing throughout the unhurried performances of "Night and Day" (Cole Porter) and Kismet's "And This is My Beloved" (Robert Wright, George Forrest) which follow. As he launches into the flashy "Funiculi, Funicula" (Luigi Denza), the first of the album's three Neapolitan songs, we realize how much better he sounds singing in Italian, which provides the abundance of "vowel time" Murtagh prefers. When he sings in English, in his race to get to the vowel, he often rushes so quickly over initial consonants that it can be difficult to understand the words. And with his affinity for round, yawning sounds, it took a couple of hearings for me to recognize his "Ah've gaht yah" as the opening of Cole Porter's "I've Got You Under My Skin." But on "O, Sole Mio" (Alfredo Mazzucchi, Eduardo Di Capua, Giovanni Capurro), the oft-heard Neapolitan tune popularized by Lanza, Murtagh is spectacular. With his spreading, vibrato-heavy sound, Murtagh offers a distinctively memorable performance of the song, no small feat considering how many great tenors have recorded it over the years.
The album's additional highlights include Murtagh's startlingly tender rendition of "Danny Boy" (Frederic Weatherly), his authoritative performance of the Tosca aria "E Lucevan Le Stelle" (Giacomo Puccini), and the CD's closer, "Be My Love" (Sammy Cahn/Nicholas Brodszky). A fitting way to finish, the romantic tune, from the 1950 musical film The Toast of New Orleans, was written for Lanza and is, perhaps, the American popular standard for which Lanza was most well-known. But despite Murtagh's swoon-worthy performance of it, before bidding adieu, I yearned to hear what Murtagh would do with some of those soaring songs from the 1924 operetta The Student Prince, which Lanza famously recorded for the soundtrack of the 1954 film version, though he ultimately did not appear on screen. It's just a personal wish, but maybe it will encourage Murtagh to do a sequel to this alluring Lanza homage.
###
---
About the Author