Club Review: Shana Farr's "Dream Reality"
December 11, 2022
Shana Farr is a beautiful singer. She looks beautiful. She was beautifully prepared for her show Dream Reality at the Laurie Beechman Theatre. Her life story, give or take 1.5 minor hiccups, sounded beautiful. She likes beautiful songs about dreams. She can hit high theatre soprano notes, seemingly effortlessly, and, yes, very beautifully.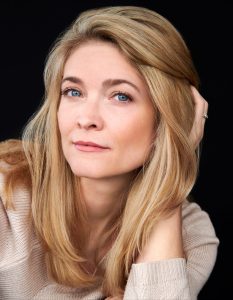 With her long time music director and arranger Jon Weber at the piano, a well-paced, well-arranged evening dreamily unfolded. "Never Never Land" (Styne, Comden & Green) was a compelling opener, inviting us on a journey. The classic "A Kiss To Build a Dream On" (Bert Kalmar, Harry Ruby, Oscar Hammerstein II) had an especially nice bounce to it. "Boulevard of Broken Dreams" (Harry Warren, Al Dubin) was entertainingly wrapped up as a medley with the theme from Sex and the City (Douglas Cuomo) to tell the story of Farr's single years. Closing with "Still Dream" (Alexandre Desplat, David Lindsay-Abaire), Farr showed a shining upper range and great vocal stamina after an ambitious set.
What are dreams, anyway? Pop culture often seems to think dreams are about falling in love, getting married, having babies—and sometimes pursuing a career passion, especially singing—and Farr seemed to be satisfied enough with that understanding of what dreams are to craft a cabaret around it. But in this performance, there were no nightmares, no realities that did anything more than slightly delay the fulfillment of good dreams, no strongly contrasting anger, fear, or grief; no deep humor, and a minimum of quirks or weirdness. I felt left out in the cold as this polished performer skimmed over the surface of her identity with a lovely lineup of songs that were all, homogenously, about dreams in the simplest sense: expressing a wish. There's no law in cabaret that you have to get raw and personal, in fact it's often more effective to use that sparingly. Yet here, I was desperate for Farr to figure out how to add a huge pinch of salt to this sentimental show. Either from the human side, with a deeper dive into the disappointment and struggle that made her a dreamer, or perhaps simply swapping out some of the dream songs to more obviously shade in the "reality" theme.
Places where we started to see more dimensional performances included a little relatable awkwardness and sorrow in "I Had a Dream About You" (Maury Yeston). And the absolute standout of the evening, Amanda McBroom's "Dreaming," showed Farr railing against the pressure of perfectionism, and wanting to be a real person instead of the perfect wife. Here she showed she has the chops to live vulnerably in a song, with the storytelling affecting her voice and inviting us in.
Farr has "champagne problems" with the design of this cabaret—to be so lovely that a reviewer says that you might want to try roughing it up a bit is a good issue to have! It's almost as if Farr needs to work against the beauty of her "type" (as they say in casting—which I've always found to be very limiting) to translate solid musical theatre skills into cabaret's small stage, where her audience is hoping for just a little more truth and intimacy. And for my taste, a little more grit and pathos.
Presented at the Laurie Beechman Theatre, 407 W. 42nd St., October 12, 20, and November 12, 2022.
---
About the Author
From Canada, Penelope Thomas came to NY to study dance with Merce Cunningham; then through a series of fortunate and unfortunate events, she wound up back in singing and acting. Credits include lead vocals with FauveMuseum on two albums and live at Symphony Space, singing back-up for Bistro Awards director Shellen Lubin at the Metropolitan Room, reading poet Ann Carson's work at the Whitney, and touring North America and Europe with Mikel Rouse's The End of Cinematics. In Toronto, she studied piano at the Royal Conservatory of Music and cello with the Claude Watson School for the Arts, and in New York she studied music theory with Mark Wade. She's taught in the New School's Sweat musical theatre intensive and taught dance in public schools and conservatories.