Club Review: Brandon James Gwinn's "Four Pianos"
November 8, 2022
Bobby Short…Blossom Dearie…Frances Faye…Diana Krall. Their names alone conjure images of sophisticated, exciting nightlife, of bôites inhabited by saloon singers on the ivories, of wonderful dreams of music and class and style. Alas, it has been a long time since that piano and voice alchemy has topped the entertainment world in New York City and the world. That is why I give a tip of my top hat to Brandon James Gwinn for choosing to honor them in his thrilling new show, Four Pianos, which debuted to a packed house at 54 Below. Most heartening of all was that a good part of the crowd was of an age where they might not even recognize the names, much less the smartly chosen signature songs Gwinn highlighted. With each cheer, with each ovation, my heart swelled to be in the presence of an artist who was sharing a history that deserves preservation. As iconic as his subjects were, Gwinn never lost his appealing, distinct voice and his passionate, witty playing as he resurrected each one with a jolt of his own electrifying energy.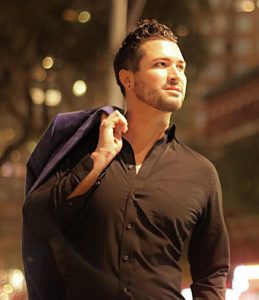 The singer-pianist has wisely surrounded himself with a spectacular support team who understood what he was attempting and who contributed immeasurably to the evening's success. Dan Berkery (on drums), Amy Griffiths (on sax, flute, and clarinet), Jeff Koch (on bass) and Jason Ruiz (on percussion and guitar) couldn't be better as they recreated memories and created new astonishments for the show. Gwinn's piano and the arrangements were nothing short of sensational. The show had a great look as well, with screens on either side of the stage revealing a constantly changing cavalcade of stills and film clips that added to the occasion and helped those unfamiliar with the cast of legends to have some additional insight into just who they were.
The set opened with a blistering, fiery arrangement of "The Man I Love" (George Gershwin, Ira Gershwin) which raised the temperature immediately and instantly established Gwinn's mastery of the piano, the material, and the room. He cooled things off with a swinging take on "I Love Being Here with You" (Peggy Lee, Bill Schugler).
I must say that I took inordinate delight simply in hearing the classic sounds of bongos and xylophone in the opening arrangements. This in some way lessened the irritation caused by faulty sound at the beginning of the show; his voice was mixed way too far back in the mix and a lot of his sparkling delivery was lost, especially by those not familiar with the lyrics. Happily, the sound righted itself soon thereafter. He then moved on to the first honoree, Blossom Dearie, with one of her slyest, most endearing creations, "I'm Hip" (Bob Dorough, Dave Frishberg). He made a feast of Howard Dietz's words to the music of Arthur Schwartz in "Rhode Island is Famous for You" as he took us on the twisting, turning verbal journey across the states of the Union. Confessing his love for Cy Coleman and Carolyn Leigh, he capped Blossom's section with their Peggy Lee classic, "Doop Doo De Doop (A Doodlin' Song)," getting the whole band to join in on vocals, which was a fun flashback to the old days.
Diana Krall, the "newest" honoree ("a special performer" to Gwinn) provided a change in mood with "So Nice (Summer Samba)" (Marcos Valle, Norman Gimbel), recalling the long-ago Brazilian invasion of the Great American Songbook. Krall's songbook afforded takes on more contemporary, but no less worthy, material with an inventive "California Dreamin'" (John Phillips, Michelle Phillips) slowly building to a percolating samba, followed by a stunningly dramatic "Walk On By" (Burt Bacharach, Hal David). This was no mere stunt to satisfy a younger audience but rather proof that these newer songs belonged in the rarified company of the others in the show.
Frances Faye was certainly the choice most indicative of Gwinn's wild and savvy talent. She was a defiantly queer performer at a time when women, not to mention lesbians, had a tough time making it in the music business. Gwinn's love for this performer emanated from the stage as he jumped into "Fever" (Eddie Cooley, Otis Blackwell) with an exciting splash, much like Faye used to do. In the crowd-pleasing litany of name after name after name that is "Frances and Her Friends" (Faye), he matched her energy and humor at every turn and even added a final verse of his own friends' names. He kept the irresistible rhythms going with Cole Porter's "Night and Day," which featured some noteworthy sax accompaniment.
Last was the singer/pianist who seemed dearest to Gwinn's heart, the irrepressible Bobby Short. He opened this section with a great quote, "There are those who use the piano as a crutch, and those that use it as a weapon!" It had been obvious for the entire night into which category Gwinn and his hero fall. Although Short was not known primarily as a blues singer, he certainly could go there if he felt like it and Gwinn goes there as well, in spectacular fashion with "The Four Walls and One Dirty Window Blues" (Willard Robinson, Anita Ellis). "Mister and Missus Fitch" (Cole Porter, from Gay Divorce) showed that the singer was a natural fit for Short's uptown/down-low world. He made "On the Sunny Side of the Street" fresh and new with infectious charm, and then did one of his favorite songs, and a hold-over from his terrific Duplex cabaret debut I saw years ago, "You Fascinate Me So" (Cy Coleman, Carolyn Leigh) that ranks near the top of any I have heard.
It is indicative of his love of the songs and his beautifully researched show, that he tried to find a number that the four had recorded to close the show, but the closest he could get was another Coleman/Leigh classic, "The Best Is Yet to Come" that was a staple of all but Frances Faye. It is also a harbinger of what I hope will be a Volume 2, a Volume 3, and a Volume 4 of Four Pianos. There are so many other standard bearers of this bygone (but, in Gwinn's hands, still thriving) art deserving of recognition, and no one more capable of providing it than Brandon James Gwinn. He does it all without a whisper of camp or condescension. He is a remarkable performer, and I can't wait to see what he does next. In the meantime, this show is a smash!
###
Presented at 54 Below, 254 W. 54th St., on November 3, 2022.
---
About the Author
Gerry Geddes has conceived and directed a number of musical revues—including the Bistro- and MAC Award-winning "Monday in the Dark with George" and "Put On Your Saturday Suit-Words & Music by Jimmy Webb"—and directed many cabaret artists, including André De Shields, Helen Baldassare, Darius de Haas, and drag artist Julia Van Cartier. He directs "The David Drumgold Variety Show," currently in residence at Manhattan Movement & Arts Center, and has produced a number of recordings, including two Bistro-winning CDs. He's taught vocal performance at The New School, NYU, and London's Goldsmith's College and continues to conduct private workshops and master classes. As a writer and critic, he has covered New York's performing arts scene for over 40 years in both local and national publications; his lyrics have been sung by several cabaret and recording artists. Gerry is an artist in residence at Pangea, and a regular contributor to the podcast "Troubadours & Raconteurs." He just completed a memoir of his life in NYC called "Didn't I Ever Tell You This?"