Club Review: Deborah Stone's "Take Me Back—Joan, Joni, Dylan, and Others"
January 30, 2023
Back in the day, you couldn't walk around the West Village without finding a folk club on every block; the sound of guitars and voices wafted into the streets wherever you went.  I remember catching the NY debut of a brand new singer at The Bitter End, a singer who "grew up" to become Jackson Brown. I remember being mesmerized by Judy Collins blending folk and pop and country and Broadway into a magical potion transporting a rapt audience of which I was a member. Tom Rush, continuing the tradition of the troubadour, introduced me (and those lucky enough to be there) to the songs of Joni Mitchell and James Taylor and his own beautiful creations like "No Regrets."  Singer Deborah Stone remembers that time as well and shares those memories in her transportive new show, Take Me Back—Joan, Joni, Dylan and Others, which premiered in December as part of the Winter Rhythms series presented by Urban Stages and returned for a special engagement in January at Pangea. Her memories are keen because upon her arrival in New York to seek her musical fortunes she immersed herself in the world of folk music as a singer and guitarist. For the new show she once again accompanies herself with style on guitar and treats the audience to a survey of her favorite songs from that period.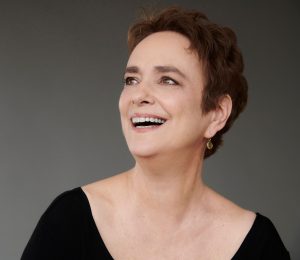 Her lovely, expressive, range-y voice and her exquisite phrasing make these songs and moments come alive. She has a humble, unaffected delivery that lets the poetry and magic of the material shine.  Songs that seemed mired in the past burst into the present with renewed vitality and emotion while her impressive musicality keeps them firmly grounded in the style and substance of the time she celebrates. In her opening number, Bob Dylan's "I'll Be Your Baby Tonight," her warm, pleasing sound has a rough-hewn edge made for this kind of material.  She perfectly captures the unexpected sexiness of the song, while using it more universally as a welcome to her show.  "Goin' Back" (Carole King, Gerry Goffin) is a perfect set up for the journey she is about to share, inviting us to go back with her.  It is a version haunted by ghosts and nakedly vulnerable, investing the song with unexpected power and emotion. A Joan Baez song, "Babe I'm Gonna Leave You" (Anne Bredon) luxuriates in beautifully sustained high notes rivaling the icon on her own turf. With "Diamonds and Rust" (Baez), her personal, thoughtful storytelling outdoes the original and makes the song mesmerizing.
If I have a reservation, which is actually more of a wish, it is that she would have included a few more up- or even mid-tempo choices.  It's an indication of how ballad-heavy the show is that Stone introduces "Last Thing on My Mind" (Tom Paxton) as an uptempo number. However she describes it, her performance of it can't be faulted.  Next comes a deep dive into her musical past with the first song she ever performed in front of an audience (in fourth grade, no less). I would guess that her performance then of "Where Have All the Flowers Gone" (Pete Seeger) could not match the muted sadness, resignation and bewilderment with which she invests it today. She touches on the Beatlemania which transformed the musical landscape of her youth with "In My Life" (John Lennon, Paul McCartney) that climaxes with a simple yet powerful declaration of "…I loved you more," that puts the classic on a dramatic level it rarely achieves in the hands of other singers.  Joni Mitchell's "Both Sides Now" does not have the same specific, personal reinterpretation, so that while it is a perfectly presentable cover of the song, it left me wanting more.  Mitchell (and perhaps the Beatles) might have been a good opportunity to change the tempos a bit; there is so much material from which to choose in their songbooks. Individually they are more than acceptable, but in the arc of the show some variation would have been welcome.  
I have no such thoughts about her other Mitchell song, "Woodstock," which she makes a haunting elegy for a generation. Some much needed fun and energy arrives with Theodore Bikel's "Pollerita" (Geula Gill, Theodore Bikel) a bubbly, captivating, clap-along, smile-along delight. Gordon Bok's "Bay of Fundy" is very special to Stone and she reveals that in an impassioned, beautifully phrased version that sets the scene and tells the story with consummate skill. On the line "…Cape Sable's horn blows all day long…" she holds the word "horn" until it becomes the sound rising from the sea and washing over  the audience.  Blind Faith would at first thought seem an odd choice for a "folk-centric" evening like this, but including "Cant Find My Way Home" (Steve Winwood) is an inspired one which, while it doesn't rock, adds a welcome spine with the insistent rhythm of her guitar that rarely showed itself in the set.  A gently touching "And I Love You So" (Don McLean) has a comforting lightness and joy and no trace of the drama and pleading which most singers inject into it.  A gorgeous take on James Taylor's "You Can Close Your Eyes" makes me long for a Taylor show by the singer. She, and we, have fun with her provocative "Daddy, You've Been on My Mind" (Dylan) and it provides the perfect lead-in to her closing number, "Forever Young" (Dylan) as a send-off that is a bit more somber than it is usually done, but none the worse for the change of feel.  I had been silently thanking Stone for not including a sing-along in the proceedings but alas, she saved it for the encore with a perfunctory "Pack Up Your Sorrows" (Pauline Marden, Richard Farina) which I wish she had done full out without audience participation.
Take Me Back has a palette of beautifully subdued colors and, while I might have preferred a brighter hue here and there, it is a thoughtful, touching, well-sung show that is definitely worth a visit should it return. Deborah Stone lets her memories float through the room and collide with our own, allowing them all to live and breathe in the present. 
###
Presented at Urban Stages, 259 W. 30th St. on December 17, 2022; at Pangea, 178 Second Ave., on January 22, 2023.
---
About the Author
Gerry Geddes has conceived and directed a number of musical revues—including the Bistro- and MAC Award-winning "Monday in the Dark with George" and "Put On Your Saturday Suit-Words & Music by Jimmy Webb"—and directed many cabaret artists, including André De Shields, Helen Baldassare, Darius de Haas, and drag artist Julia Van Cartier. He directs "The David Drumgold Variety Show," currently in residence at Manhattan Movement & Arts Center, and has produced a number of recordings, including two Bistro-winning CDs. He's taught vocal performance at The New School, NYU, and London's Goldsmith's College and continues to conduct private workshops and master classes. As a writer and critic, he has covered New York's performing arts scene for over 40 years in both local and national publications; his lyrics have been sung by several cabaret and recording artists. Gerry is an artist in residence at Pangea, and a regular contributor to the podcast "Troubadours & Raconteurs." He just completed a memoir of his life in NYC called "Didn't I Ever Tell You This?"