Club Review: Linda Purl's "This Could Be the Start"
January 30, 2023
Linda Purl is a true working actor: whether you've seen her on Happy Days or The Office, on or Off Broadway, in regional theatre, in straight plays or musicals, or in Japan, where she spent her early years—you've definitely already enjoyed her work. It's this level of performance experience that backs up her craft as a concert singer. She looks at ease in the spotlight in a way that invites her audience to relax and let her take the wheel.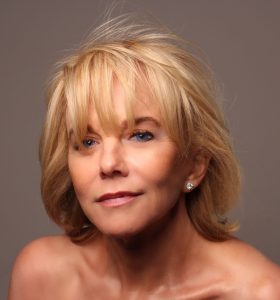 Purl had a warm crowd filled with friends and family at Birdland Theater for her most recent offering: This Could Be The Start. Structured more as a short concert or set than a theme-driven cabaret, the music led the way. Almost every show I see has top-level instrumentalists, but music director-pianist-arranger Tedd Firth and the band were a cut above here: innovative yet still singer-forward arrangements, compelling solos, supportive accompaniment, smooth transitions, and wonderful pacing overall. The fact that the evening moved so well musically meant the burden of the flow was not on the patter, which comprised somewhat generic post-pandemic reflections about starting anew—with the added fermentation of Purl's learning curve on their new family sourdough bread business. It all worked because of her abilities as a performer and the quality of the music, but there may have been missed opportunities for her to dig in as an actor.
"Come Fly with Me" (Jimmy Van Heusen, Sammy Cahn) had a Latin-inspired arrangement, with Purl choosing an appropriately floating-feeling vocal tone, softening what some would have done in a full belt to a smooth mix. Sondheim's "Everybody Says Don't" showcased Purl's ability to work with lyrics. She showed a great instinct for how to add weight to the right words to underline the defiant message. "How High the Moon" (Nancy Hamilton, Morgan Lewis) opened with an unexpectedly measured tempo for a song which is often sung at breakneck speed; slowing it down accentuated the longing in the lyrics. Two Cy Coleman/Carolyn Leigh selections were an especially good fit for Purl and her band: "You Fascinate Me So" was lively and articulate; "Let Me Down Easy" featured David Finck's great bass solo and Purl's laid-back performance from a stool, sliding down the word "easy." As she did for many of these songs, Purl sang the more rarely-heard opening verse for "Taking a Chance on Love" (Vernon Duke, John LaTouche, Ted Fetter), which was another opportunity for us to hear her tell a story—about why she was going to jump in and risk her heart. Ray Marchica on drums also had a featured moment to move beyond a supporting role, skillfully trading eights with Finck.
Purl is a winsome and welcoming presence on stage. It's a good thing when the evening is wrapping up and it feels like it's been too short a time together.
###
Presented at Birdland Theater, 315 W. 44th St. on Monday, January 23, 2023.
---
About the Author
From Canada, Penelope Thomas came to NY to study dance with Merce Cunningham; then through a series of fortunate and unfortunate events, she wound up back in singing and acting. Credits include lead vocals with FauveMuseum on two albums and live at Symphony Space, singing back-up for Bistro Awards director Shellen Lubin at the Metropolitan Room, reading poet Ann Carson's work at the Whitney, and touring North America and Europe with Mikel Rouse's The End of Cinematics. In Toronto, she studied piano at the Royal Conservatory of Music and cello with the Claude Watson School for the Arts, and in New York she studied music theory with Mark Wade. She's taught in the New School's Sweat musical theatre intensive and taught dance in public schools and conservatories.