Heather Villaescusa
March 21, 2018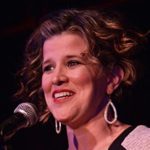 Heather Villaescusa took first place in last year's Mama's Next BIG Act! competition; her new show at Don't Tell Mama, The Happiness Project (A 10-week Guide), is a lively trip through the fun, angst and domestic hiccups she went through taking on a challenge that scared the pants off her…and winning. Her strong vocals support a well-crafted, stylish, mom-next-door comic type; she manages to be honest about a performer's insecurity while not bursting the bubble of stage magic that allows us as an audience to enjoy her skill.
Directed by Lennie Watts, who was the creator of the 10-week competition, the evening presents an entertaining mix of classic and contemporary musical theatre material and pop and rock songs to take us along on Villaescusa's journey through those ten weeks. ABBA's Benny Andersson and Björn Ulvaeus never knew they'd be roped into a collaboration with George Foreman until Watts wrote parody lyrics for "The Winner Takes the Grill"; although the number comes slightly too early in the set for us to understand that the grill was one of the competition prizes, it establishes a lighthearted take on the stakes. Villaescusa takes a bite out of "Velociraptor" (Joe Iconis) and goes big and courageous with her inner reptile, offering a successful peek at how awkward many of us feel when we're trying to look as if we've got game.
The mashup of "Sweet Child o' Mine"/"You Are My Sunshine" (Axl Rose, Slash, Izzy Stradlin/Jimmie Davis, Charles Mitchell) was created for her 7-year old daughter. "Mom-ism" (Gioachino Rossini, Anita Renfroe, Heather Villaescusa) is basically Modern Major General for Moms set to the William Tell Overture; it is an enjoyable gallop through her parenting to-do list. The duets with her husband, Jay Haddad, including Sondheim's "The Little Things You Do Together," are delightful; he's a very good singer and a loving but more deadpan foil to her warm and genuine style. Backing vocals from Watts and Rachel Hanser are consistently welcome additions; in addition to their musical contributions, they give us another taste of the community of family, friends, and colleagues behind the singer. Musical Director Steven Ray Watkins on piano, Don Kelly on drums, and Matt Scharfglass on bass are a supportive and energetic band.
Although a spirited idea, the Pat Benatar medley may not have been the best choice for her clear voice. Villaescusa certainly has the power, but Benatar is raw, scratchy rock singing, and if you can't get a little blood on the mic, you may be better off changing the style of the cover. Villaescusa's lovely legit sound on the waltz "This is All Very New to Me" (Albert Hague, Arnold Horwitt) and her adept transition between swing and pop modes in the clever "Shakin' the Blues Away"/"Shake It Off" medley (Irving Berlin/Taylor Swift, Max Martin, Shellback) demonstrate her proficiency in a variety of vocal styles within the theatre genre.
She starts and ends with Jason Robert Brown. As the encore, "A Little More Homework" is perhaps too earnest a song because it drives home the by-then already well-proven point that life and contests alike require daily, and sometimes remedial, hard work. However, as the opener, "All Things in Time" is an effective way for Villaescusa to embrace the view that success unfolds at the pace it will. And I certainly hope it does, for she is hitting her stride here.
The Happiness Project (A 10-week Guide)
Don't Tell Mama — March 3, 7, 16 & 24
---
About the Author
From Canada, Penelope Thomas came to NY to study dance with Merce Cunningham; then through a series of fortunate and unfortunate events, she wound up back in singing and acting. Credits include lead vocals with FauveMuseum on two albums and live at Symphony Space, singing back-up for Bistro Awards director Shellen Lubin at the Metropolitan Room, reading poet Ann Carson's work at the Whitney, and touring North America and Europe with Mikel Rouse's The End of Cinematics. In Toronto, she studied piano at the Royal Conservatory of Music and cello with the Claude Watson School for the Arts, and in New York she studied music theory with Mark Wade. She's taught in the New School's Sweat musical theatre intensive and taught dance in public schools and conservatories.