Mary Foster Conklin
March 22, 2018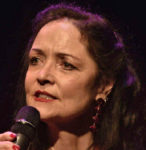 Fran Landesman is one of the quintessential 20th century lyricists. She combined the hip cool of jazz with the anti-establishment style of the beat generation and the conversational naturalism of the best pop music into a heady body of work written with some of the most influential composers of the time. In Life Is a Bitch (the poetry and lyrics of Fran Landesman), which returned recently to Pangea after a long absence, Mary Foster Conklin proved to be the perfect choice to present the writer and her work to 21st century audiences. In addition to showcasing Conklin's long-recognized mastery of the jazz vocal idiom, this show was so smart, so sophisticated, and so assured that it was a total pleasure.
To maneuver the intricate and angular rhythms and melodies that accompanied Landesman's words, she enlisted the aid of John di Martino on piano and Ed Howard on bass; the duo could not have been more in tune with the singer or more accomplished in their playing. Brief, well-constructed bits of patter gave a telling glimpse into the lyricist's life, while the exquisite vocals gave an even deeper impression of the woman. Landesman pretty much "spoke" with one voice throughout her career. She didn't write character songs and she didn't settle for cliché or pastiche. Each lyric revealed her own feelings, her own pain, her own joy, her own sorrow, her own anger. The singer managed to channel the essence of the writer while still retaining her own voice.
Since Landesman was as much a poet as a songwriter, singers often get hung up on a kind of poetic, sometimes stilted, sometimes sing-song-y delivery that undermines the passion and the acerbic humor of the lyrics. While never losing sight of the brilliance of the words, Conklin invested each song with such wisdom and emotion and wit that even the most familiar of them had something new to offer. Nowhere was this more evident than in "Spring Can Really Hang You Up the Most" (music by Tommy Wolf), taken at a more deliberate pace than usual and all the more moving for it; without sacrificing the inspired rhymes that swirl in and out of each line, she dug as deep into the melancholy contemplation of absent love as I have heard. "The Ballad of the Sad Young Men" (Wolf), after an introduction that solved the mystery of the "tired little girl (who) does the best she can," built to an even more-powerful than usual climax. Even "It's Nice Weather for Ducks" (Wolf), done in a wonderfully laid-back groove, eschewed the customary cuteness for something more bittersweet and substantial.
In a show like this, one hopes for some surprising choices, and Conklin did not disappoint, including, among others: "The Winds of Heaven" (Bob Dorough), a pop hit for The 5th Dimension; "Stopping the Clock" (Roy Kral), a sly, sexy swinging love song; "This Must Be Earth" (Richard Rodney Bennett), a haunting sci-fi tale of a dystopian future resulting from environmental neglect; and a couple of selections with music by Simon Wallace, her last writing partner.
The set closed with "Photographs (Me in Love with You)" (Alec Wilder), a gently beautiful reminiscence of love that proved that Fran Landesman had a heart as big as her talent. After seeing this stunning show, I would say the same could be said of Mary Foster Conklin.
Life Is a Bitch (the poetry and lyrics of Fran Landesman)
Pangea – March 15
Note: An encore performance of this show has just been scheduled for May 4.
---
About the Author
Gerry Geddes has conceived and directed a number of musical revues—including the Bistro- and MAC Award-winning "Monday in the Dark with George" and "Put On Your Saturday Suit-Words & Music by Jimmy Webb"—and directed many cabaret artists, including André De Shields, Helen Baldassare, Darius de Haas, and drag artist Julia Van Cartier. He directs "The David Drumgold Variety Show," currently in residence at Manhattan Movement & Arts Center, and has produced a number of recordings, including two Bistro-winning CDs. He's taught vocal performance at The New School, NYU, and London's Goldsmith's College and continues to conduct private workshops and master classes. As a writer and critic, he has covered New York's performing arts scene for over 40 years in both local and national publications; his lyrics have been sung by several cabaret and recording artists. Gerry is an artist in residence at Pangea, and a regular contributor to the podcast "Troubadours & Raconteurs." He just completed a memoir of his life in NYC called "Didn't I Ever Tell You This?"