Matt Rogers
December 14, 2018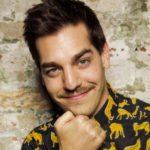 The holidays are, for most, a time of celebration, and I cannot think of a better cabaret celebration than Matt Rogers's brilliantly funny, wonderfully profane, infectiously musical show at The Duplex, Have You Heard of Christmas? The show features "all the songs off his highly anticipated (non-existent) holiday album." Rogers wrote the smart and hilarious songs and delivers them with tremendous energy and charm in a mix of satirical glee and pure, old-fashioned musicality. The success he achieves in wearing the three hats of songwriter, comedian, and singer is extraordinary.
I will resist the temptation to quote any of the lyrics, so there will be no spoilers. But I will say that there is not a bad song among them. I was particularly taken with the side-splitting title song and "God's Up to Some Tricks," the closest thing to an actual hymn the show offers. After quoting the Faith Hill version of "Where Are You Christmas?," originally from the Jim Carey film How the Grinch Stole Christmas, he imagines the entire score composed by Carey, giving us "The Hottest Female Up in Whoville" perched on the piano in a platinum wig. This show has it all—there's sex, there's heart, there's a lullaby, there's good cheer, there are tears (however mock they may be), there's an ode to family, and there are guest stars.
Guest stars can be problematic in a show like this—not fitting the mood, overstaying their welcome, or just not being good—but Rogers proves as adept at programming and emceeing as he is at everything else. Each one comfortably embraces the evening's off-the-wall atmosphere and contributes to the show's success. Catherine Cohen, a most promising singer-comedienne, opens the evening with a delightful mix of stand-up and song, scoring big laughs with a tribute to the joys and woes of traveling "Upstate" and a vicious send-up of millennial and Generation Z angst and social graces called "Plus One at the Holiday Party." She has a unique and refreshing comedic voice that primes the audience perfectly for the zaniness to come.
Comic Larry Owens offers unexpected, off-kilter seasonal impressions of Patti LaBelle and Viola Davis in between some big, expressive vocals used for equally comic effect. Dave Mizzoni joins Rogers for a duet called "Gay Scarf," which they co-wrote. He then returns with Owens for "Immah Have Your Back," a rousing trio about "sisters" supporting each other. Overseeing all the songs and contributing the wonderfully varied and evocative arrangements is music director Henry Koperski, whose cute and sexy smile is a special effect that adds to the show's delights.
There are a few more opportunities to catch Have You Heard of Christmas? before Christmas 2018 rolls around, but I hope this becomes an annual celebration. We need the good will and solid entertainment that it offers. I'm dreaming about Have You Heard of the Fourth of July? next summer.
Have You Heard of Christmas?
The Duplex – December 11, 15, 18, 22
---
About the Author
Gerry Geddes has conceived and directed a number of musical revues—including the Bistro- and MAC Award-winning "Monday in the Dark with George" and "Put On Your Saturday Suit-Words & Music by Jimmy Webb"—and directed many cabaret artists, including André De Shields, Helen Baldassare, Darius de Haas, and drag artist Julia Van Cartier. He directs "The David Drumgold Variety Show," currently in residence at Manhattan Movement & Arts Center, and has produced a number of recordings, including two Bistro-winning CDs. He's taught vocal performance at The New School, NYU, and London's Goldsmith's College and continues to conduct private workshops and master classes. As a writer and critic, he has covered New York's performing arts scene for over 40 years in both local and national publications; his lyrics have been sung by several cabaret and recording artists. Gerry is an artist in residence at Pangea, and a regular contributor to the podcast "Troubadours & Raconteurs." He just completed a memoir of his life in NYC called "Didn't I Ever Tell You This?"