Maud Hixson's "Permanent Moonlight—Songs of Sir Richard Rodney Bennett"
August 22, 2023
Sir Richard Rodney Bennett was a man of many sides—a renowned composer of opera, film scores, jazz and pop, a lyricist of wit and depth, a cook, a mean scrabble master, a poker player, a superb pianist and interpreter of the Great American Songbook, a perfect accompanist and arranger, a dream audience, and a caustic critic. But at the top of any list would be a lover of good singers. I remember how excited he was, upon discovering a singer, to share his new treasure with me, and so it was that I met Maud Hixson. When she came to town, he invited me over for a dinner welcoming her to New York City. A little later, we found a small club in midtown, and she made her cabaret debut, as Richard and I sat applauding and smiling and applauding some more.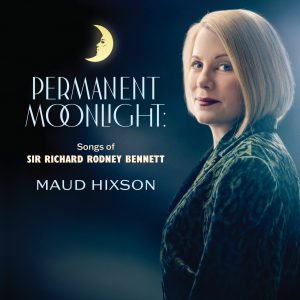 Over the course of many delightful recordings, I have become a helpless fan of the talents of Ms. Hixson. There is a thoughtful and pleasing delicacy to her vocals that masks a strength and a swing that appear when they're needed. Her phrasing is precise, subtle, and illuminating and, with her exquisite taste in material, she has chosen a treasure trove of Bennett songs, both known and rare. His reserved passion, his simple, elegant poetry and his ever-present wit blend perfectly with the singer's vocal artistry to create a beautiful love letter and an irresistible introduction to Bennett's overwhelming talent for those discovering him for the first time, or know him only from his iconic film scores.
"Early to Bed," which opens the album, was written with his frequent writing partner Franklin Roosevelt Underwood for the great Blossom Dearie, who never liked to perform much after sundown. Dearie ultimately rejected the song because it contained the line, "…ain't got the energy, ain't got the bread" and as she succinctly put it, "I got the bread!" While other singers have visited the song on recording and on the cabaret stage, it is preserved here as a lighthearted waltz for future generations to embrace. What follows is the premier recording of "No One But Me" (lyrics by Aubrey Woods) from an unproduced musical of E.F. Benson's Mapp and Lucia novels. A mournful clarinet solo by Tony Balluff blends with the soulful piano of Rick Carlson to buoy Hixson's wistful vocal into the skies. New York legend Buddy Barnes once remarked to Bennett that there should be a sliding scale for song requests, and the result was "Come Buy," dedicated to Barnes and frequently sung by Bennett in restaurants and clubs round town, often requested by yours truly. The innocent delivery of Hixson is a far cry from the witheringly sardonic version heard when Bennett held court, but her lightly raised eyebrow take has charms of its own and invests the song with its own magic.
"I'll Always Leave the Door a Little Open" (music by Johnny Mandel, lyrics by Bennett andUnderwood) has been recorded by Lena Horne (for whom it was written), Joyce Breach, Carol Sloane, and others so it is one of his most familiar songs and Hixson adds a moving addition to its legacy. The next song is Bennett at his most "Noel Coward-ly," listing the pros and cons of country living in "Let's Go and Live in the Country." Using a more Americanized delivery than the original, Hixson's plainspoken delivery still manages to capture all the delight of the wordplay.
The singer makes a couple of unexpected forays into the more "classical" side of Bennett's composing with beautiful results that fit right into the sound and spirit of the rest of the recording. The first is the sad and sweet "The Bird's Lament," from the song cycle The Aviary, featuring the poems of 19th century English Romantic poet John Clare. Perhaps the most well-known song in the group comes next, "I Never Went Away." It expresses the pain and loss of leaving a loved one behind when journeying over miles and years to new destinations. The simple honesty of emotion with which she delivers the heartbreaking lyrics is haunting and emotionally wrenching.
A song cycle written for Cleo Laine for the opening of London's Queen Elizabeth Hall, to words by Julian Mitchell, provides "Soliloquy" which might well been the other side of the story from "I Never Went Away." Bennett's composition is stunning, incorporating shadows of Sondheim, Arlen, Gershwin, Weill, and others in surprisingly contemporary styles that might, in lesser hands, be at odds with the classical format. Less showy than Laine's version, but no less dramatic, or spectacular, Hixson triumphs with this massive work running over 10 minutes. Her unaffected, simple vocals deliver every element of the narrative from spoken word to swinging abandon and her acting of the narrative is equally impressive.
From another song cycle, Dream Songs, composed to a poem from Walter De La Mare's Peacock Pie, comes "Song of Shadows"—an art song treated with the same intelligence and honest emotion as the jazz material and anchored by the exquisite piano of Dan Chouinard. The message in the performance can easily be seen as a note of appreciation to its composer. If that is the case, then the final song, "Goodbye for Now" (lyrics by Charles Hart) could be viewed as Sir Richard Rodney Bennett's answer to the singer and to the world. It has always been a favorite of mine and the beauty of Hixson's voice, and the insinuating Latin feel of the arrangement provided by Carlson on piano, Gordy Johnson on bass and Phil Hey on drums, makes me love it even more.
As a remembrance of a genius in the world of music, as a tribute to a friendship formed through music, or merely as a collection of damned fine songs sung superbly, Permanent Moonlight: Songs of Sir Richard Rodney Bennett is a remarkable achievement and a showcase for the very special talent of Maud Hixson. I want to end with a note of personal thanks to Maud for bringing back Richard so lovingly to this sphere for at least an hour or so. Without realizing it, it was just what I needed.
###
---
About the Author
Gerry Geddes has conceived and directed a number of musical revues—including the Bistro- and MAC Award-winning "Monday in the Dark with George" and "Put On Your Saturday Suit-Words & Music by Jimmy Webb"—and directed many cabaret artists, including André De Shields, Helen Baldassare, Darius de Haas, and drag artist Julia Van Cartier. He directs "The David Drumgold Variety Show," currently in residence at Manhattan Movement & Arts Center, and has produced a number of recordings, including two Bistro-winning CDs. He's taught vocal performance at The New School, NYU, and London's Goldsmith's College and continues to conduct private workshops and master classes. As a writer and critic, he has covered New York's performing arts scene for over 40 years in both local and national publications; his lyrics have been sung by several cabaret and recording artists. Gerry is an artist in residence at Pangea, and a regular contributor to the podcast "Troubadours & Raconteurs." He just completed a memoir of his life in NYC called "Didn't I Ever Tell You This?"