Chloé Jean's "Fairy Tale Fail"
August 13, 2023
Sometimes when you listen to a new recording, in the first seconds you are captivated by a fresh sound, personal delivery, perfect instrumentation and immaculate production; you just sit back, smile, and enjoy an exciting and refreshing new voice on the scene. Such was my response to Fairy Tale Fail, the new album by Chloé Jean. It is one of the most assured and delightful debuts I have ever heard. Her influences (Ella Fitzgerald, Billie Holiday, Nina Simone, Roberta Flack, Lauren Hill, and Whitney Houston among them) are reflected most obviously in her originality and melodic, lyrical invention rather than in any derivative style or phrasing and that's how it should be. She has been an All-American track star, a NY model, a wife, a mother, an award-winning songwriter and, most definitely, a singer. The recording features a mix of originals and inspired covers with not a bad choice in the lot.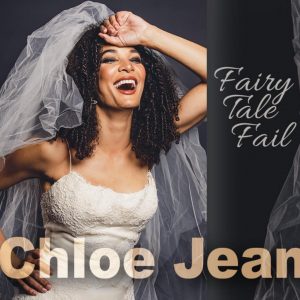 Produced and arranged by guitarist Ray Obiedo, the music is consistently fine throughout. The cover songs in particular benefit from Obiedo's continually surprising and satisfying arrangements, making each selection uniquely the singer's own. He receives notable assistance from Santana keyboardist David K. Mathews, Tower of Power bassist Marc Van Wageningen, percussionist Peter Michael Escovedo, and a rhythm section with Peter Horvath on piano, Dan Feiszli on bass, and Billy Johnson and Jason Lewis on drums. There's also an inventively employed horn section featuring trumpeter Mike Olmos and tenor saxophonists Norbert Stachel and Charles McNeal.
In her opener, "Black Sheep" (Chloé Jean Bermudez), she sings, "…make your mark, be a star…be proud to be a black sheep…don't be afraid to take a chance, jump in cause life's a dance…." to a vaguely reggae-ish beat and stakes her claim, celebrating her own artistic expression regardless of naysayers who may try to get her to conform. The first of many reinventions of the Great American Songbook follows with an insinuating, whispery "Cry Me a River" (Arthur Hamilton) unlike anyone else's. The title track, "Fairy Tale Fail" (Bermudez), explores the disillusion that follows belief in storybook romance and happy endings in a world where too many kissed frogs turn into dogs. The subtle, driving energy has hints of anger and resilience mixed in with the sadness and disappointment. Her personal storytelling treats "I Left My Heart in San Francisco" (George Cory) with thoughtful respect but manages to erase thoughts of Tony Bennett and allows us to concentrate on the lyrics in a new light. She also reveals in this number that she is completely at home in a classic jazz setting with smoldering sax caressing her vocals. Norah Jones's "Don't Know Why" (Jesse Harris) gets a welcome refurbishing as her alluring vocals float over the hypnotic rhythms of the melody. "Bad Guy" (Billy Eilish) is sensational, taking off from the original in surprisingly tough and percussive ways. Another original, "Free," brings the momentum down as she blends a childlike freedom of phrasing with a maturity of emotion, wrapped up in haunting overdubbed vocals. Obiedo's guitar is especially effective echoing her phrasing.
"Where Love Began" (Bermudez) has some of her best lyrics: "Not too long ago we were satisfied with tiny treasures of a modest life. Now we're living like kings, but emptiness is there in every corner of our grown-up love affair…." Her writing is as personal and incisive as her phrasing and places her in a lineage going back to the likes of Judy Collins, Carol King, and Joni Mitchell. There is a "live" recording included and while the difference in sound is a bit jarring at first, the track itself is first-rate; the immediacy of her vocals on "Crazy" (Bermudez) is electric, and her playful, scat-lite phrasing is just right. "The First Time Ever I Saw Your Face" (Ewan MacColl) is a stunner, bringing to life what had become almost funereal in the hands of other singers as she replaces somber reminiscence with joy and sensuality.
The album closes with a warm, rich embrace of an arrangement of Irving Berlin's "Blue Skies" where her inviting vocals are caressed at every turn by Horvath's subtly swinging piano. It leaves a promise of even greater things to come and I, for one, can't wait to hear them. For now, Fairy Tale Fail reveals further surprises and treasures with each re-listen. It is a very special introduction to a very special singer, Chloé Jean.
###
---
About the Author
Gerry Geddes has conceived and directed a number of musical revues—including the Bistro- and MAC Award-winning "Monday in the Dark with George" and "Put On Your Saturday Suit-Words & Music by Jimmy Webb"—and directed many cabaret artists, including André De Shields, Helen Baldassare, Darius de Haas, and drag artist Julia Van Cartier. He directs "The David Drumgold Variety Show," currently in residence at Manhattan Movement & Arts Center, and has produced a number of recordings, including two Bistro-winning CDs. He's taught vocal performance at The New School, NYU, and London's Goldsmith's College and continues to conduct private workshops and master classes. As a writer and critic, he has covered New York's performing arts scene for over 40 years in both local and national publications; his lyrics have been sung by several cabaret and recording artists. Gerry is an artist in residence at Pangea, and a regular contributor to the podcast "Troubadours & Raconteurs." He just completed a memoir of his life in NYC called "Didn't I Ever Tell You This?"