Wilma Baan's "Look at Me Now!"
August 13, 2023
A few years ago, when the world in general and the cabaret world in particular were ravaged by quarantines and lockdowns, BistroAwards.com began to review related CDs and recordings (and the occasional virtual event). One of the earliest reviews I wrote in those pandemic days was for the terrific debut album of singer Wilma Baan, So Nice. I had never heard of her but my interest in the recording was piqued by its producer, UK jazz great Claire Martin, along with Chris Traves. For her second album, Baan continues her relationship with Martin, who produced on her own this time, enveloping the singer with a classic, timeless jazz sound that showcases her vocal talents—talents that are even more impressive the second time around. Also returning is pianist and arranger Graham Harvey, whose musicality and empathy make him the perfect accompanist for the project, helped in no small measure by Jeremy Brown on acoustic and electric bass, and Sebastiaan de Krom on drums.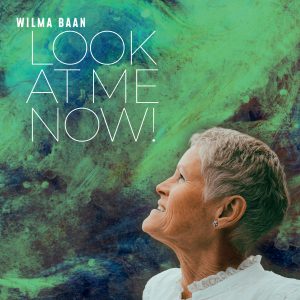 Given the pedigree of the artists involved, it is no surprise that the song selection is first rate, with mostly familiar classics plus a few more unusual choices. The rough-hewn beauty of Baan's voice is an ideal match for the hard-won wisdom that fills the phrasing of the stories she so expertly tells. The album opens with the title song, "Oh! Look At Me Now" (Joe Bushkin, John De Vries), a high-spirited declaration: the strength and spark of her "…with a new heart, brand new start, I'm gonna be a Mrs., not a Miss…" is guaranteed to make the listener share the smile that is most assuredly on her face as she growls out the line. Taking a slow and deliberate deep dive into the poetry of "The Windmills of Your Mind" (Michel Legrand, Marilyn & Alan Bergman) she sheds new light on the well-known lyrics, finding deeper meaning in many of its passages. She proves that there is really no such thing as an overdone song if the singer invests it with musical invention and honest emotion. Guest James McMillan's horn flies over the percussive intensity of "Somewhere in the Hills" ("Favela") (Antônio Carlos Jobim, Vinicius De Moraes, English lyrics by Ray Gilbert) which also inspires Baan to forego the normal lightness of a bossa nova for a hard swing.
A more subtle take on that swing continues into "The Great City" (Curtis Lewis), a song I don't know, but which gives the singer a chance to transform the rough lessons of its lyrics into a world-weary sermon. Her natural and welcome wit is a perfect addition to her delivery. It took Nat Steele's irresistible vibraphone on "Waltz for Debby" (Bill Evans, Gene Lees) and a couple of other tracks, to remind me how much I have missed vibes on a jazz recording. It's such a classic call back to some of my favorite Jackie & Roy recordings (among many others). The singer eschews the normal wistful melancholy of the song for a mature, joyful observation of the passage of time as Debby becomes her own person. Returning to the world of bossa, Baan gently delivers an exquisite reading of "The Day It Rained" ("Chuva") (Durval Ferreira, Pedro Camargo, English lyrics by Ray Gilbert) showing she can embrace the subtleties of the bossa nova when she chooses. "Old Devil Moon" (Burton Lane, E.Y. "Yip" Harburg, from Finian's Rainbow) highlights not only the fiery seduction of Baan's attack but sparkling support from Brown's double bass and de Krom's drums.
Her voice hinting at years of life lessons, she brings "Bein' Green" (Joe Raposo) to mature, passionate life in 2023, its poetic message as important as ever. Once again, the vibes are a perfect touch. "Born to be Blue" (Robert Wells, Mel Torme) stokes the embers of lost loves and manages to find some heat in its throbbing blues. Not having to prove anything in her sophisticated jazz stylings on "When in Rome" (Cy Coleman, Carolyn Leigh), she relaxes and makes a feast of the wit and wordplay of Leigh's brilliant lyrics, letting the delightful rhythms provided by the stellar musicians carry her along. Her torch song credentials are confirmed on a thoughtful, deeply felt "Never Let Me Go" (Jay Livingston, Ray Evans) that is the emotional peak of the recording. Her performance rivals that of the great Vivian Lord, whose interpretation is burned into my heart.
The album comes to a sparkling end with "A Beautiful Friendship" (Stanley Styne, Donald Kahn) which I like to think of as a celebration of the collaboration of Wilma Baan and Claire Martin. With amazing results like Look At Me Now!, long may it continue!
###
---
About the Author
Gerry Geddes has conceived and directed a number of musical revues—including the Bistro- and MAC Award-winning "Monday in the Dark with George" and "Put On Your Saturday Suit-Words & Music by Jimmy Webb"—and directed many cabaret artists, including André De Shields, Helen Baldassare, Darius de Haas, and drag artist Julia Van Cartier. He directs "The David Drumgold Variety Show," currently in residence at Manhattan Movement & Arts Center, and has produced a number of recordings, including two Bistro-winning CDs. He's taught vocal performance at The New School, NYU, and London's Goldsmith's College and continues to conduct private workshops and master classes. As a writer and critic, he has covered New York's performing arts scene for over 40 years in both local and national publications; his lyrics have been sung by several cabaret and recording artists. Gerry is an artist in residence at Pangea, and a regular contributor to the podcast "Troubadours & Raconteurs." He just completed a memoir of his life in NYC called "Didn't I Ever Tell You This?"